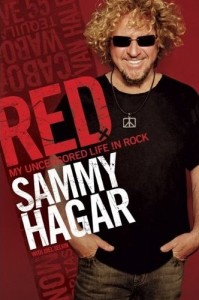 A two-and-a-half-minute video clip featuring behind-the-scenes footage from legendary rocker Sammy Hagar's recent book-signing tour can be viewed below.
According to Interbridge.com's "The Late Night TV Page", Hagar will guest on the Tuesday, April 19 edition of NBC-TV's "Late Night With Jimmy Fallon". The program will air at 12:35 a.m. ET (technically early Wednesday morning, April 20).
Hagar's autobiography, "Red: My Uncensored Life In Rock", debuted at No. 1 on the New York Times nonfiction hardcover best sellers list, appearing on the chart dated April 3, 2011. Hagar promoted the book's publication with major press interviews in New York City, as well as a two-week signing tour on both the East and West Coasts. The former VAN HALEN vocalist has been making news thanks to the book's outspoken commentary on both Eddie Van Halen and original VH frontman David Lee Roth, as well as Hagar's claims that he's met with alien beings.
"Red" was published on March 15. Hagar told MTV Hive last week that he hopes the dirt he spills in "Red" will get VAN HALEN riled up enough to make a great record with original frontman David Lee Roth. The band is currently in the studio with Roth for the first time in more than a quarter century.
Hagar also compared Eddie Van Halen to Charlie Sheen in an interview with ABC-TV's "Good Morning America", saying, "There's a similarity in the way they look and everything. I don't know how you get like that."
Hagar has been in the studio himself recently to record the second album from CHICKENFOOT, his supergroup with ex-VH bassist Michael Anthony and RED HOT CHILI PEPPERS drummer Chad Smith.
Via Blabbermouth
Death Scream – Heavy Metal Reviews – Heavy Metal Interviews – Heavy Metal News