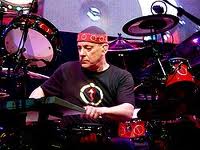 RUSH drummer Neil Peart was interviewed for the Friday, June 17 edition of "George Stroumboulopoulos Tonight" (formerly "The Hour"). The program, which airs at 11:00 p.m. on CBC in Canada, is hosted by Canadian television and radio personality George Stroumboulopoulos. A new clip from the episode, featuring Peart talking about how his relationship with drumming has changed over the years — and the evolution of his monster drum solo — can be seen below. "I get lost in it … and I do challenge myself," Peart says of his largely improvised solo. "There are no consequences. There's no mistake. If I do something weird, play it twice and it's a new part."
On being inspired by other drummers:
"Eric Clapton said he wanted to burn his guitar after hearing Jimi Hendrix. I never understood that. If I hear somebody great it makes me want to go home and play. Not out of frustration, but out of joy."
On his drum solo:
"I compose a solo and then perform the variations within it as a piece of music for the audience. At this point, the first half of my solo is completely improvised from the first beat through changes that I've become familiar with in the process of a night's discovery."
RUSH bassist/vocalist Geddy Lee recently spoke to The Plain Dealer about the progress of the songwriting sessions for the band's upcoming 20th studio album, "Clockwork Angels", for which a release date has not yet been set.
"We've got about seven songs written," Lee said. He added, "When you hear the first two songs ['BU2B' and 'Caravan'], which we're playing live now, they definitely have a heavier sound. It's the heavier side of RUSH in the early going. But when I think of all the songs that we've written already, there's quite a lot of diversity there. I think — I hope — RUSH fans will like it. We're certainly going to work hard to make it a great record, as we always try."
Via Blabbermouth
Death Scream – Heavy Metal Reviews – Heavy Metal Interviews – Heavy Metal News