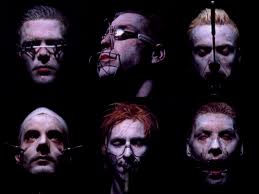 German industrial metallers RAMMSTEIN will perform on the Thursday, May 19 episode of ABC-TV's "Jimmy Kimmel Live!" (which will actually air the morning of Friday, May 20).
RAMMSTEIN bassist Oliver "Ollie" Riedel revealed during an interview with MusikUniverse.net that the band's 2010 concerts in New York and Montreal were filmed for a forthcoming DVD. In addition, the group is planning to release a "best-of" collection featuring two previously unreleased songs.
RAMMSTEIN's latest album, "Liebe Ist Für Alle Da", sold 22,000 copies in the United States in its first week of release to debut at position No. 13 on The Billboard 200 chart. Previously, the group's best rank came with its 1998 chart debut, "Sehnsucht", which peaked at No. 45 off the strength of its only U.S. radio chart hit, "Du Hast".
"Liebe Ist Für Alle Da" arrived in stores on October 20, 2009 through a marketing and distribution deal with Vagrant Records and Universal Music Germany. The album was produced by Jacob Hellner and RAMMSTEIN, with recording done at Northern California's Sonoma Mountain Studio. The first single from the 11-track release was "Pussy", which was released as a digital single on September 22, 2009 and accompanied by one of the year's most viral videos.
Video footage of RAMMSTEIN's May 5, 2011 performance at IZOD Center in East Rutherford, New Jersey can be viewed below.
Via Blabbermouth
Death Scream – Heavy Metal Reviews – Heavy Metal Interviews – Heavy Metal News