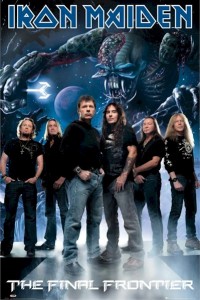 The following update was posted on IRON MAIDEN's official web site:
"As we have been quiet in the press for a while, we thought you might like to be aware of some major MAIDEN articles soon to hit the newsstands here in the U.K. First the Sunday Times magazine, this Sunday, May 15 runs with an extensive article based around the band's first-ever visit to play in Indonesia recently. Sunday Times magazine is also available digitally on iPad with added film footage. This is followed on May 19 with an in-depth feature in Record Collector magazine, and on May 25 by Classic Rock magazine's extensive views on what makes MAIDEN tick. Also out on May 25 is a 'Stories Behind The Songs' feature in Kerrang!, and Metal Hammer's June 1 issue includes an 'On The Road' piece from Buenos Aires and Santiago.
"The band look forward to kicking off the European leg of the tour in Frankfurt on May 28 and coming home to finish 'The Final Frontier' world tour in the U.K. towards the end of July."
IRON MAIDEN's April 8 and April 10 concerts in Buenos Aires, Argentina and Santiago, Chile, respectively, were professionally filmed and recorded for a future DVD release.
IRON MAIDEN was honored with a Grammy in the "Best Metal Performance" category in the pre-telecast ceremony at the 53rd annual Grammy Awards, which was held on February 13 at the Staples Center in Los Angeles. IRON MAIDEN was nominated for the track "El Dorado", from the band's 2010 album "The Final Frontier".
"The Final Frontier" sold 63,000 copies in the United States in its first week of release to enter The Billboard 200 chart at position No. 4.
"The Final Frontier" was IRON MAIDEN's fourth U.K. No. 1 album. The band previously topped the chart in 1982 with "The Number of the Beast", in 1988 with "Seventh Son of a Seventh Son" and in 1992 with "Fear of the Dark".
Via Blabbermouth
Death Scream – Heavy Metal Reviews – Heavy Metal Interviews – Heavy Metal News