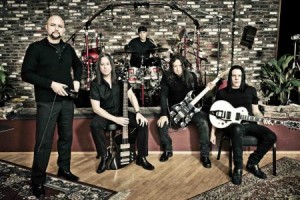 Kim Halling of Expressen TV conducted an interview with vocalist Geoff Tate of Seattle progressive rockers QUEENSRŸCHE when the band performed at this year's edition of the Sweden Rock Festival on June 9, 2011 in Sölvesborg in southern Sweden. You can now watch the chat below.
"Around The World", a new song from QUEENSRŸCHE, is available for free download from the band's Facebook page. You must "like" the page in order to gain access to the track.
"Around The World" comes off QUEENSRŸCHE's twelfth studio album, "Dedicated To Chaos", which will be released on June 28 in North America via Loud & Proud Records, a Roadrunner Records imprint focusing on established artists. The band is preparing to embark on a tour in support of the new opus, which was recorded in the group's hometown and produced by Kelly Gray.
"Dedicated To Chaos" track listing:
01. Get Started
02. Hot Spot Junkie
03. Got It Bad
04. Around The World
05. Higher
06. Retail Therapy
07. At The Edge
08. Broken
09. Hard Times
10. Drive
11. I Believe
12. Luvnu
13. Wot We Do
14. I Take You
15. The Lie
16. Big Noize
Check out the CD cover artwork below.
When asked about the overall musical direction of the material on "Dedicated To Chaos", QUEENSRŸCHE singer Geoff Tate recently told Paul Anthony of U.K.'s Rock Radio, "It's kind of like an 'Empire' record set 25 years in the future. [Laughs] It's a very listenable record, I think. I think people will find it interesting to listen to on headphones, especially. There's a lot going on with it. And there's definitely an emphasis on the rhythm section. Eddie [Jackson, bass] and Scott [Rockenfield, drums] have written a lot of the songs on this particular record, so it really showcases what they do, which is something very special."
He added, "This record is definitely a boundary-pusher in a lot of respects, I think. It's always difficult to describe music; it's better to experience it. So I'll let people hear it and make up their own minds."
QUEENSRŸCHE will guest on the nationally syndicated radio show "Rockline" with host Bob Coburn on Wednesday, June 29 at 8:30 p.m. PT / 11:30 p.m. ET. Fans are encouraged to speak with QUEENSRŸCHE by calling 1-800-344-ROCK (7625).
For more information, visit RocklineRadio.com.
Via Blabbermouth
Death Scream – Heavy Metal Reviews – Heavy Metal Interviews – Heavy Metal News