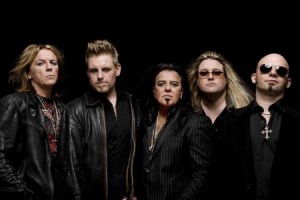 Danish hard rockers PRETTY MAIDS have issued the following update:
"PRETTY MAIDS would like to announce Rene Shades as the new temporary bass player, replacing recently departed Hal Patino [KING DIAMOND]. Shades has been a longtime friend of the band, and did actually play a couple of gigs with us back in 2004 as a second guitarist. Through the years, Shades has played in various bands, Mike Tramp amongst others.
"To begin with, Shades has agreed to step in for the summer festival tour and will make his debut with the band in Tivoli (Copenhagen) on April 22.
"We're all happy to welcome Shades onboard and we hope that all our fans, friends and supporters will give him a warm welcome."
Video footage of PRETTY MAIDS's December 2, 2010 performance at Amager Bio in Copenhagen, Denmark can be viewed below.
"Pandemonium", the latest album from PRETTY MAIDS, registered the following first-week chart positions:
Denmark: #15
Switzerland: #63
Sweden: #45
Germany: #85
Patino made his live debut with PRETTY MAIDS on May 8 in Aalborg, Denmark.
"Pandemonium" was released on June 8, 2010 in the U.S. via Frontiers Records.
According to a press release, "Pandemonium" "truly shows the band in their finest moment [and] is their best effort in many years." It is said to be "a return to the 'Future World' / 'Red Hot and Heavy' era of the Eighties but with an updated sound and freshness that consolidates that PRETTY MAIDS are as strong as ever."
Via Blabbermouth
Death Scream – Heavy Metal Reviews – Heavy Metal Interviews – Heavy Metal News