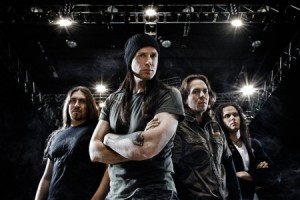 POISONBLACK — the Finnish band featuring former SENTENCED frontman Ville Laihiala — will release its fifth album, now titled "Drive" (working title was "Lead & Roll Vol. 5"), in Scandinavia on April 27 via Hype Records. The CD was recorded at Antfarm Studio in Århus, Denmark with producer Tue Madsen (THE HAUNTED, MOONSPELL, DARK TRANQUILLITY, GOREFEST).
"Drive" track listing:
01. Piston Head
02. Mercury Falling
03. A Good Day For The Crows
04. Maggot Song
05. From Now-Here to Nowhere
06. Sycophant
07. The Dead-End Stream
08. Futile Man
09. Scars
10. Driftwood
"Drive" is available for streaming in its entirety on the POISONBLACK Facebook page. Simply click "Like" for your chance to hear the CD.
The album's first single, "Mercury Falling", is available for streaming in the YouTube clip below.
Madsen previously mixed POISONBLACK's 2006 effort "Lust-Stained Despair".
"Of Rust And Bones", the fourth album from POISONBLACK, entered the official chart in the group's home country at position No. 6.
Via Blabbermouth
Death Scream – Heavy Metal Reviews – Heavy Metal Interviews – Heavy Metal News