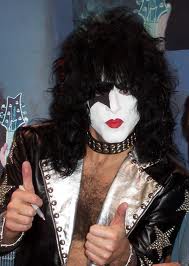 Lisa Sigell, who works as a reporter for CBS 2 and KCAL 9 with a focus on medical and health issues, will conduct an interview with KISS singer/guitarist Paul Stanley tomorrow (Wednesday, May 11) in Los Angeles. Paul will discuss his own hearing loss and work with the world-renowned House Research Institute.
Stanley was interviewed on the May 4 edition of the Fox show "Good Day New York". You can now watch the segment below.
Stanley was born with level-three microtia — a deformity of the outer ear cartilage where there is no ear canal.
"I can't hear on that side," Stanley told "Good Day New York".
Stanley, has teamed up with the non-profit House Research Institute on a major initiative called "It's How You Listen That Counts" to educate millions of teens around the world on preventing noise-induced hearing loss.
Paul will be drawing the attention of teens in New York City and Los Angeles to hearing health issues through an after-school event called Sound Rules!
Sound Rules! is a FREE hearing loss prevention education and entertainment event for teens that will feature Stanley and hearing health experts from the House Research Institute, along with valuable contest prizes and giveaways.
Paul Stanley of KISS: MyFoxNY.com
Via Blabbermouth
Death Scream – Heavy Metal Reviews – Heavy Metal Interviews – Heavy Metal News