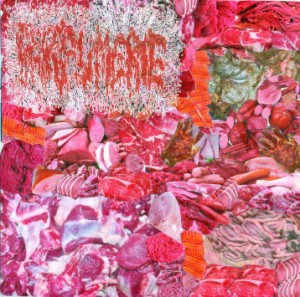 Surely, to be reminded of 1988 CARCASS's delicious debut LP with the front cover of this delectable EP by Grinding Death Metallers, Parfumerie is anathema enough. The band name is also delectably incomprehensible as it looks like it was drawn with one finger and a pool of blood. (That means if I wear the T-shirt, and someone says something like "Cool, PARFUMERIE smokes", I will know that the person knows their stuff). This in-crowd recognition trick goes back all the way to PINK FLOYD in 1973 with their "Dark Side Of The Moon" opus — though on that album there wasn't even a band name; just  the cover artwork.
Yet, the opening observances would be mere asides if it wasn't for the music that this "LP" holds. It is 8 minutes and the band are calling it an album! Okay. That's alright with me.
A commanding voice is upfront and croaking masterfully and  is as powerful as any you will ever hear in Brutal Death Metal. There are no pig squeals (though that is not a bad thing at all when it fits the music).  Yet don't think that you are going to hear a retread of anything old-school here as (yes it's an EP) — "Transmundane and Unprofessional Delocation of Superfluous Extremities and Rare Tissues". All 7 tracks have medical/suffering titles of the pathologically insane kind; yet I still can't quite understand — in my mind — why this recording features so highly on my list of 2014 releases.
It has a rock-solid production and flawless, no-nonsense guitars and perfect pacing. It is extremely heavy and never kooky.
The band is favoring calling this Goregrind. The members of PARFUMERIE are from Winnipeg, Canada's VIOLENT GORGE and ARCHAGATHUS. I guess that term is accurate as it straddles the line between Death and Grind most expertly so.
It is called a Demo EP and I would love to have a copy of the vinyl when and if available. Yet don't be put off. It definitely does not sound like a demonstration tape. Not at all. And it should not have been called a demo tape. Though I guess they may be shopping it around.
Rather, it's a sure-fire winner with supreme brutality and every song a fist-pumping deathmetalstravaganza. It has already been praised to the heights  in the on-line Braindead 'zine and others are just catching on to the underground delights of PARFUMERIE. What a bandname, huh? I can't wait for the next release and hopefully it will be a true full-length.
Feast!
http://parfumerie1.bandcamp.com/