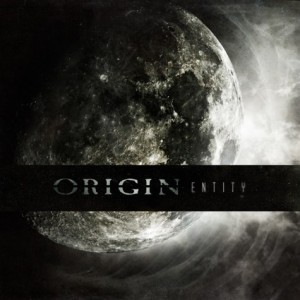 The second in a series of webisodes featuring behind-the-scenes footage from the making of "Entity", the new album from American technical death metal innovators ORIGIN, can be viewed below. Due on June 7 in North America and June 10 in Europe via Nuclear Blast Records, the CD features the following track listing:
01. Expulsion Of Fury
02. Purgatory
03. Conceiving Death
04. Swarm
05. Saliga
06. The Descent
07. Fornever
08. Committed
09. Banishing Illusion
10. Consequence Of Solution
11. Evolution Of Extinction
Bonus track:
12. You Fail!
One of the most intense and technical forces of the contemporary death metal world, ORIGIN has returned to stake its claim as the leader of metal's new wave of extremity with its fifth studio effort. As expected, the death grind trio of Mike Flores (bass, vocals), Paul Ryan (guitar, vocals) and John Longstreth (drums) continues to churn out frantic, hell-paced grids of metal torment, but now further complements the arrangements with a newfound propensity for churning grooves and the hook-laden approach that first reared its ugly, but accessible head on the band's 2007 offering, "Antithesis". The band once again returned to Chapman Recording Studios in Lenexa, Kansas to work with longtime engineer and friend Robert Rebeck.
As stated multiple times in the past, ORIGIN proves once again that they stand head and shoulders above their peers.
Commented drummer John Longstrength: "As you can see, we're getting closer and closer to having a new album available for you.
"This has been a project that has been a long time in the making with all the unexpected twists and turns that come with creating an album and we are almost there.
"So, this is the new album cover! Designed by the band and executed flawlessly by artist extraordinaire, Colin Marks.
"As you can see, this time there's no aliens, no scary faces, no silly comic book imagery, no bullshit. It's back to basics for the people that don't fall for, or appreciate, bullshit trends that currently compromise the validity of this art.
"Let this album cover with its grey, dead, coldness reflect our disdain for the misconception that ORIGIN is represented by a giant, planet eating, scary face that's aimlessly roaming the cosmos like an idiot.
"Like the cover, the music on this album is stone, it's cold, it's serious, it's desolate, it's very angry, it's the band unified and working overtime to create what we feel will be the finest 45 minutes ORIGIN has created yet. This album is its own bitter entity."
Added artist Colin Marks: "It's been a real pleasure collaborating with the ORIGIN guys on the artwork for 'Entity'.
"From the beginning John had a very specific vision of how this record should look and I tried to interpret that as accurately as possible.
"The whole look of the album, the way I see it, is a suffocating vision of absolute solitude and isolation, with huge barren otherworldly landscapes. It's a simple concept, but it works well and hopefully reflects the bleak tones and heaviness of the new songs."
Catch the band, with their new frontman Jason Keyser, on tour with HATE ETERNAL, VITAL REMAINS and ABYSMAL DAWN in North America starting on June 15 at Emo's in Austin, Texas. Look for ORIGIN on the road in Europe, South America, Mexico, Asia, Australia and the rest of the world in 2011 and 2012.
Via Blabbermouth
Death Scream – Heavy Metal Reviews – Heavy Metal Interviews – Heavy Metal News