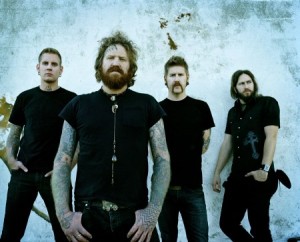 Atlanta progressive metallers MASTODON are currently in the studio recording the follow-up to their acclaimed concept album "Crack The Skye", one of the most critically lauded records of the past decade. The band is tracking the new CD at Doppler Studios in Atlanta with producer Mike Elizondo. Drum tracks were previously completed in Los Angeles at the legendary Sound City Studios where NIRVANA's masterwork "Nevermind" was recorded. Songtitles set to appear on the album include "Blasteroids" and "All The Heavy Lifting".
In a recent interview with AOL's Noisecreep, MASTODON drummer Brann Dailor stated about the band's new material, "It doesn't seem as proggy. There's moments, but it seems more riff-oriented. It seems a little more stripped down. [2004's] 'Leviathan' was a little more stripped down, and it feels like that to me. Everything always changes once you go in the studio, but at the moment it seems like a really super-heavy LED ZEPPELIN or something. It has a lot of that [John] Bonham-esque groove to it, but really heavy and dark. I really like playing like that, and when it goes into those parts, I'm psyched."
When asked if guitarist and vocalist Brent Hinds is once again responsible for most of the initial songwriting on the new CD, Dailor replied, "I think it's a little more collaborative, with everyone chipping in. Brent has a lot of great stuff. [Guitarist] Bill [Kelliher]'s got a lot of cool riffs, too. There are so many, it's hard to know which ones we're gonna use. But we go in and jam all the time and record stuff. Then we sort it out later."
Immediately following its current recording sessions in Atlanta, MASTODON will head to Europe for a summer-long tour that includes all dates on this year's Sonisphere festival as well as the Rock Im Park, Rock Am Ring, Roskilde festivals and more. The band will also play a one-off show at The Gorge in Seattle on July 30 with SOUNDGARDEN, QUEENS OF THE STONE AGE, and MEAT PUPPETS.
Via Blabbermouth
Death Scream – Heavy Metal Reviews – Heavy Metal Interviews – Heavy Metal News