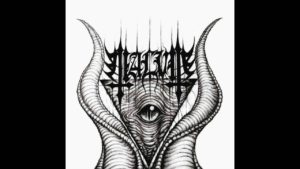 Misanthropy, darkened crevices, and sneaking Satanic slyness: These words describe the diabolical sounds resonating from this 2016 Malvm EP.
Malvm are Budapest, Hungary's newest Black Metal behemoths. They have an unGodly commanding manner of delivering no bull-crap, full-speed ahead Metal that burrows deep into the pandemonium set forth by Celtic Frost, Mayhem, and Behomoth. Yet they also have that unnerving quality that can only be witnessed on an early Impaled Nazarene (Finland) disc.
"Cvltvs…" is an independent release to be found on bandcamp. So, the secret's out and now you know that Deathscream.net has dredged this up from the absolute depths to satisfy those with ravenous, vampyric music tastes
With four songs clocking just over 22 minutes in length, there is a doubtless parallel to the yellow goat magic of first album Bathory.
Yet it is to be praised.
– Rich Castle