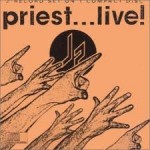 And Why It Was A Very Bad Choice To Release
By doing the following record review (Judas Priest – "Priest Live!  Columbia c240794)  it becomes obvious that Judas Priest are the ultimate live band  (Metallica, Dio, Black Sabbath, and Slayer being next in line).
A great metal band always has a tough time catching it all, at any stage of the game, when making a live album. Venom makes the worst live albums. Manowar may be an exception but it takes extra singers on stage. Rush cut through the heartache of the problem as well as does Pink Floyd by bringing the video/lasers/ and kitchen-sink. B.O.C. also can't get the live album thing together, either. Which only shows by 2011 and the advent of Youtube and DVDs that it really, really, really doesn't matter any more. Great, I say!
Now let's talk about this ill-conceived album by J.P.: This review goes back to when it was released on Columbia recs (C2 40794). Judas Priest – "Priest Live!" Judas Priest's double-live is out. Nothing that new about it, though. We all know since "Turbo" that Priest are fresh out of youthfully-fresh ideas. But ya can't shut Halford up. That is one man that won't climb off his bike and die. He is gonna keep singing his talented ass off. The Godfather of Power Metal begins with – nah, it doesn't matter what song it is, let's just say it's the new stuff, meaning post "Hellbent". The "Turbo" tracks along with the "Defenders Of The Faith" stuff bulks this album out. And the main selling point for die-hard Priest fans is how heavy it all sounds. Priest are one band that is very aware of how heavy their competition is and tries their damnedest to compensate. It usually works ok too. Every song has a newfound heaviness – "Electric Eye", "Metal Gods", "Heading Out To The Highway" is juxtaposed by a good dose of "British Steel" – "Breaking The Law" and "Living After Midnight" (as well as the aforementioned – "Metal Gods"). Now, I'm gonna tell you all a secret: I got a tape of Priest "Live At The Palladium", N.Y.C./(New York City) 7/1981. It is of excellent quality from the "Point Of Entry" LP tour. This tape to me is the only real representation of Judas Priest, ever. The smell of piss in the aisles and the torn-up chairs mixed with the funky smell of leather and sweat that drips with a fury from the band members is actually heard and felt, strange as it may sound. The rawness of the performances are still intact, giving you the Priest as they were and some may say, as I do,  still are. The coats of studio polish on each passing studio album obscures these mighty Englishmen. The infamous tape I speak of should be hunted down by those of you reading this. The Priest are the original Power Metal Monsters, bar none. Having stood just below a sweatin-bullets Rob Halford, I can tell you of the combination of repulsion and delight you will experience without the studio gloss. Just the power, thank you. Forget this "Live" fiasco and even the more fiascoed  "Unleashed In The East" (the songs are way to speeded up). Find this "Live 7/81" recording and you will have the legend of Judas Priest revealed for real.
– Rich Castle
Death Scream – Heavy Metal Reviews – Heavy Metal Interviews – Heavy Metal News