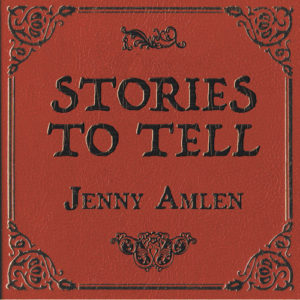 A sultry and ageless songstress, Jenny & The Generators can pack a house, and bring it down at that. The former Heavy Metal/Hard Rock frontwoman for New York City's own Cold Sweat in the century gone by; though this time Jenny has teamed up with her brother David Amlen and collaborated to make a shimmering Rock album with all the trimmings.
Jenny Amlen's albums always positively reek of intensity and enchantment, and "Stories To Tell" is no different: "Intoxicated" is just that — intoxicating. "Wedding Ring" combines an not-often-heard paean to prime-Diana Ross (And if you grew up in the early '70's you will remember how utterly convincing and cool Ms. Ross was). My pick, however, is "Changing World". It has an airy Cheap Trick hit-single alike vocal quality; and the song just plain rocks! "American Dream" sees Jenny at her storytelling best. She does so in a matter-of-fact Manhattan Island drawl, exuding a tone of voice that I haven't heard since her song "Living On The Streets" from her "Many Hats" 2008 album. The angelic delivery on album closer, "Always Shines A Light" is simply magic. Her multi-octave voice sure gets a workout throughout this prime opus. Brother David Amlen, her sidekick, is a big time producer and plays and holds own musically, very ably. At times, I even her the utter blissfulness that only pop duo The Carpenters could evoke.
It's simple: If you love New York City, you will love Ms. Jenny Amlen. I'd go right to CDBaby and order a copy.
– Rich Castle