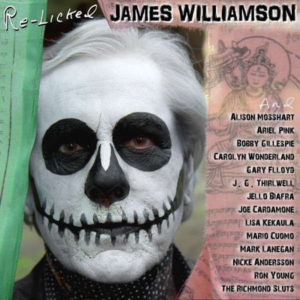 How many people can say on their resume that they were in the Legendary punk band the Stooges?
James Williamson can.
His collaboration with Iggy Pop formed Kill City in 1977 on Bomp records. Poorly received at the time it's now considered a classic.
James currently lives in Saratoga, CA. A family man, he abandoned the music scene years ago but evidently never put down his guitar.
His solo record Re-Licked, puts a new spin on Stooges songs as many are sung by a female, Lisa Kekaula. And what a fierce range and power she has! Perfect to interpret the Stooges songs in a different yet familiar way.
Asked by Iggy to tour with Stooges from 2009-2013, James packed up and went on an international tour. If you missed out- well you REALLY missed out.
James Williamson currently has his own band the Careless Hearts. He does justice to songs like Loose, Down on the Street, and Search & Destroy. His sound will blow you away! And his male singer in Careless Hearts is perfect. As Bowie says "To Be Played At Maximum Volume".
– Susanne Sahakian