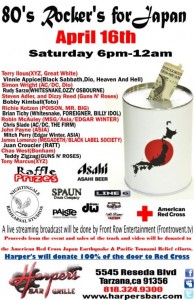 Former and current members of HEAVEN & HELL, DIO, GUNS N' ROSES, WHITESNAKE and RATT, are among the musicians who took part in the '80s Rockers For Japan benefit concert on Saturday, April 16 at Harper's in Tarzana, California. Organized by singer Terry Ilous (XYZ, GREAT WHITE), the show featured musicians from some of the '80s most popular rock and metal bands.
Video footage of the "Over The Mountain" performance from the '80s Rockers For Japan concert can be viewed below. The band lineup for the song was as follows:
* Robin McAuley (SURVIVOR, MSG) – Vocals
* Mitch Perry (MSG, ASIA, EDGAR WINTER) – Guitar
* Brian Tichy (WHITESNAKE, FOREIGNER, BILLY IDOL) – Drums
* Rudy Sarzo (DIO, QUIET RIOT, WHITESNAKE, OZZY OSBOURNE, BLUE ÖYSTER CULT) – Bass
* Robert Sarzo (HURRICANE) – Guitar
Ilous and Jeff Paris wrote a song and are created a video that featured many of the participating musicians. The song was recorded, and the video shot, live at the benefit event. It will subsequently be available on iTunes. Proceeds from the event and sales of the track and video will be donated to the American Red Cross Japan earthquake and Pacific tsunami relief efforts.
"Japan has always been very supportive of our kind of music, and this is our small way of giving back," said Ilous.
Musicians who appeared at the event, among others:
* Steven Adler (GUNS N' ROSES, ADLER'S APPETITE)
* Vinny Appice (HEAVEN & HELL, DIO, BLACK SABBATH)
* Carmine Appice (VANILLA FUDGE, ROD STEWART, OZZY OSBOURNE)
* Rudy Sarzo (DIO, QUIET RIOT, WHITESNAKE, OZZY OSBOURNE, BLUE ÖYSTER CULT)
* Brian Tichy (WHITESNAKE, FOREIGNER, BILLY IDOL)
* Richie Kotzen (POISON, MR. BIG)
* Juan Croucier (RATT)
* John Payne (ASIA)
* Teddy Zigzag (GUNS N' ROSES)
* Robin McAuley (SURVIVOR, MSG)
* Simon Wright (DIO, AC/DC, UFO)
* Robert Sarzo (HURRICANE)
* Mitch Perry (MSG, ASIA, EDGAR WINTER)
* Tony Marcus (XYZ)
Via Blabbermouth
Death Scream – Heavy Metal Reviews – Heavy Metal Interviews – Heavy Metal News