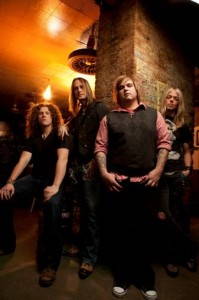 "Between The Devil And The Deep Blue Sea", the third album from Kentucky rockers BLACK STONE CHERRY, sold 13,000 copies in the United States in its first week of release to debut at position No. 29 on The Billboard 200 chart. The CD was released on May 31 via Roadrunner Records.
BLACK STONE CHERRY, comprised of Chris Robertson, guitarist Ben Wells, bassist Jon Lawhon and drummer John Fred Young, is a band adept at creating both timeless rock 'n' roll and new, innovative sounds. While the band's last record, "Folklore And Superstition", was a compelling tribute to brotherhood and history, the new album is the summation of a year in the life of the band — every emotion, triumph, loss, romance and everything in between — it's all here on "Between The Devil And The Deep Blue Sea".
"This album is the culmination of all of the everyday ups and downs life throws at you," says the band. "Sonically, you'll hear some of the meanest sounding guitar riffs we've ever laid down, and at the same time, you'll find ballads that will tug on your heartstrings. We wanted the album's intensity to match that of our live show. We're very proud of this album and excited for our fans to hear it!"
This is the first time BLACK STONE CHERRY has not recorded in the South, this time taking up residence in Los Angeles to work with famed producer Howard Benson (THEORY OF A DEADMAN, DAUGHTRY, THREE DAYS GRACE). The new surroundings allowed them to strengthen their relationships as both band members and friends, ultimately a detail that sets "Between The Devil And The Deep Blue Sea" above previous recordings. The raw intensity that pervades the music on this album harkens back to the early days of BLACK STONE CHERRY, when they were a bunch of blue-collar guys just making music together for the hell of it. The band admits, "When we first began writing music, we hadn't traveled very far out of our home state of Kentucky. Now, ten years later, we've traveled the world and experienced things we never imagined we would."
"White Trash Millionaire", the new video from BLACK STONE CHERRY, can be viewed below. The song pairs vocalist Chris Robertson's soulful delivery with the urgent and infectious rhythms of his fellow players. Sure, this is Southern rock at heart; but the concept is universal: just take what the world gives you and make that work.
Via Blabbermouth
Death Scream – Heavy Metal Reviews – Heavy Metal Interviews – Heavy Metal News