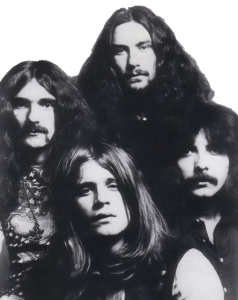 A quick look at Tony Iommi and Black Sabbath's legacy:
Heavy Metal's true progenitors have created a monster!
Sometimes someone is so great we wish to bring to fruition and duplicate what they have done; emulating them – maybe even perhaps surpassing them. This is what is going on with the emergent subcategory in Heavy Metal music of Black Sabbath-like Doom Metal, the world over.
Black Sabbath were a Heavy Metal band who combined a dark Blues Rock fixation with the occult and then proceeded to turn it up and distort it as much as possible without becoming noise. With a very slow measured pace they stitched together – messengers Ozzy Osbourne who assumed vocals, Tony Iommi on electric guitar, Terrence Geezer Butler on the bass guitar, and Bill Ward on the drum kit – created an album's worth of material and released it in 1970. And with it Heavy Metal and Doom Metal became new terms in the music world.
Black's Sabbath's eponymously-titled debut LP, 'Black Sabbath', stunned and shocked and disgusted the general public who had to contend with the Vietnam War, the advent of free love and the peace symbol and the consumption of alcohol and drugs by the masses as being cool – (re: slang term) amongst other world fads and events to contend with.
Black Sabbath in their original form would keep strong through 1970-1978 and release a total of eight albums during that time frame.
In 1980 Black Sabbath would receive the singer, one Ronnie James Dio, who played in a band called Rainbow with ex-Deep Purple guitarist Ritchie Blackmore. With this second incarnation of the band, in 1980 and 1981, Black Sabbath would release their ninth and tenth full-length studio platters, during this period of the band's height in popularity. The fellow British United Kingdom, Hard Rock, proto-Heavy Metal guitar player Ritchie Blackmore was the more folksy and aloof kindred 'other', for lack of a better term, of Mr. Tony Iommi. I do not believe that these two gentlemen are related in any way save to say that they are both Englishmen. It has to do, intrinsically, with their similarities in style. Ritchie Blackmore, with Deep Purple and Ritchie Blackmore's Rainbow – and then Blackmore's Night (his gypsy band) has, arguably, rarely brought his Proto-Metal/Heavy Metal/Hard Rock songs into the Doom realm though.
In 1981 the Deep Purple connection yielded one of the singers that fronted them. Deep Purple vocalist/Bassist Glenn Hughes joined the 'Sabs' for their 1983 'Born Again' disc. 'Born Again' is Black Sabbath's 11th studio album and featured on the album's cover art what looked like a baby devil. The re-release of this album, 30 years on, has taken place already and a re-mastering job done on it along with a bonus 'live' CD from this same era has brought to light the opinion of many opinionated pundits that this may be Black Sabbath's heaviest album of all time.
Tony Iommi just before all the hoopla of the returning Sabbath core of Ozzy/Tony/Geezer from the original line-up resulted in the Black Sabbath album of 2013 which is monickered '13′(and is very very dark and gothically inclined), resided in a supergroup called WhoCares with frontman Ian Gillan, Nicko McBrain (Iron Maiden drummer), bassist Jason Newsted (Newsted, ex- Metallica, ex-Voivod, es-Flotsam and Jetsam), and the late Jon Lord of Deep Purple reknown, among other musicians. The album cover reads Ian Gillan & Tony Iommi and the LP is titled "Who Cares". It was released, this compilation album of sorts in the summer of 2012 with the single "Out of My Mind / Holy Water" coming before it in 2011 showing the group, with the project name coming first: WhoCares – Ian Gillan, Tony & Friends and pictures displayed on the front cover of the single of the most prominent six members of this astounding Rock amalgamation.
The next chapter in Black Sabbath's history would be written with the release of the 12th studio album, whose full album was rumored before being released to be entitled Black Sabbath featuring Tony Iommi – The Seventh Star. Instead it came out in the first month of 1986 under the banner Black Sabbath – Seventh Star. This album is a smoldering Sabs record that puts the spotlight firmly on the talents of the man made of Metal himself, Tony Iommi (born Anthony Frank Iommi on February 19th in the year of 1948). The brooding nature of the tunes on this platter gave it just the right touch to keep the Black Sabbath fan base going, though any real Doom and Gloom had become noticeably absent, replaced instead by a commercial melodiousness evident in the vocals department. Two Rock vocal luminaries would contribute their talents to what is essentially considered the first Tony Iommi solo album (though don't tell that to Sabbath fans). Glenn Hughes did the vocals on what is dubbed as the Original Version and Disc 1, while Ray Gillen's vocals are on the 2010 Deluxe Edition – Disc 2 of 'Seventh Star'. 'No stranger To Love' became the single off of said album with a very AOR sound. Yet with Tony Iommi playing guitar it is unmistakably Black sabbath that it sounds of.
Studio album 13 for Sabbath (not to be confused with the Sabs "13" album) – The Eternal Idol followed a year later (December 1987) with Tony Martin coming on board, the Black Sabbath tradition of using exemplary singers continued with Tony Martin assuming frontman stance and starting a new chapter in the Sabbath story. There is a 2010 Deluxe Edition of The Eternal Idol album featuring Ray Gillen on the second disc – Disc 2; only for collectors as the original album is really all you need. Top songs: The Shining, Eternal Idol, Lost Forever. A tried and true, dyed in the wool, Heavy Metal album that is timeless and, honestly, there is but one album out of the whole catalogue that is not essential and solid (which I haven't gotten to yet).
'Headless Cross' with the super line-up of Iommi, Tony Martin, keyboardist Geoff Nicholls, drummer Cozy Powell, Laurence Cottle: Black Sabbath making a supremely satisfying album for Spring 1989 release that sounded like a true band effort. The first with this cohesiveness in a long while for Mr. Iommi and assembled company. Having Queen's Brian May guesting on 'When Death Calls', the best song on the album, doing one heck of a guitar solo certainly added to this cornerstone post-prime Black Sabbath opus.
Next in line, the Black Sabbath album, Tyr came out inconspicuously in relative silence for a Black Sabbath album, lacking publicity. It is the sleeper amongst Black Sabbath studio efforts. I can't give highlights for an album with a running time just nigh of 40 minutes, save to say songs like Heaven In Black, The Law Maker, and Feels Good To Me work splendidly as a whole experience. Doomy again, the style of Black Sabbath's original vision was re-visited on this highly undervalued album.
Enter Ronnie James Dio, (R.I.P), returning for a third Dio-fronted Black Sabbath album called Dehumanizer in June of 1992 to stamp out another classic Sabs platter. Songs like After All (The Dead), Time Machine, I, and Buried Alive are headbanging classics.
Exit R.J. Dio and enter good 'ol Tony Martin again for the Black Sabbath album featuring Geezer Butler – Cross Purposes, who took the bull by the horns as a Bass player for this one. Black Sabbath sounds charged up and I wouldn't hesitate to buy this if you haven't got it and if you do; why not slap it in the player? Psychophobia, I Witness and Cross of Thorns are 3 of 10 songs. The 11th song is quite good too, What's The Use?, and features on the Japanese Edition as a bonus track. (The Japanese get extra tracks supposedly since they have to pay more money for albums, relatively speaking, than the rest of the civilized world).
Forbidden is the final album with Tony Martin on vocals and is the only album Mr. Tony Iron Man Iommi has ever played on that doesn't shimmer and shine, yet this 1995 album would be the last Black Sabbath album for almost 30 years to come.
Heaven and Hell albums (essentially Black Sabbath with Dio under a different name) and Tony Iommi's solo album from 2000 simply called Iommi and his collaborative efforts with past Black Sabbath vocalists are to be looked into as all these albums have the Midas Touch.
Doom on.
– Rich Castle