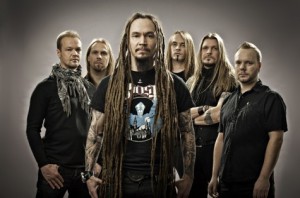 "My Enemy", a new song from Finnish melancholic dark rock/metal masters AMORPHIS, is available for streaming at this location. The track comes off the band's new album, "The Beginning Of Times", due on May 27 via Nuclear Blast Records.
"The Beginning Of Times" is described as "the most challenging AMORPHIS album so far in terms of both music and lyrics." Its central character is the iconic hero of Finnish mythology, Väinämöinen, whose tale has been masterfully retold by lyricist Pekka Kainulainen.
"The Beginning Of Times" was produced by the band; vocals were recorded under the guidance of Marco Hietala (NIGHTWISH, TAROT) in his home studio in Kuopio. Like its predecessors, the album was mixed by Mikko Karmila. Its cover artwork shows Travis Smith's magnificent interpretation of the mythological birth of the world from a goldeneye's egg.
"The Beginning Of Times" track listing:
01. Battle For Light
02. Mermaid
03. My Enemy
04. You I Need
05. Song Of The Sage
06. Three Words
07. Reformation
08. Soothsayer
09. On A Stranded Shore
10. Escape
11. Crack In A Stone
12. Beginning Of Time
13. Heart's Song (digipack bonus track)
AMORPHIS filmed a video for "You I Need" on Friday, April 29 in Berlin, Germany.
In June, AMORPHIS will embark on the extensive "The Beginning Of Times" tour, which is scheduled to continue through 2012.
"Skyforger", the latest album from AMORPHIS, was certified gold in Finland for sales in excess of 15,000 copies. (Note: The sales requirement for albums to reach gold status in Finland was recently lowered to 10,000, but because "Skyforger" was released before this change took effect, the old rules still apply.) The bandmembers were presented with their gold plaques on July 6, 2010 at a release party for their first-ever live DVD, "Forging The Land Of Thousand Lakes", at Cinema Andorra in Helsinki.
"Skyforger" was honored in the "Metal Album Of The Year" category at last year's Emma Gaala (Finnish Grammy equivalent).
AMORPHIS was nominated in two categories at the Emma Gaala — "Metal Album Of The Year" and "Domestic Artist Of The Year".
Via Blabbermouth
Death Scream – Heavy Metal Reviews – Heavy Metal Interviews – Heavy Metal News