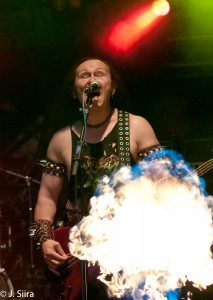 Venom's 2011 LP, "Fallen Angels" must have encountered — happened upon — a new age of deafness. Tone deafness, that is, as that's what I'm talking about.
This decade-opening Venom caveat was great. Period.
Cronos was flying his sarcastic flag of Black Metal, for it, as per what he usually does. I hadn't liked an album by Venom as much since "Resurrection" was released in the year 2000. "Resurrection" pumped and chugged and muscularly elbowed itself into each and every Metalhead's inherent wetwear, who happened upon the millenium-opening said opus. Once logged into the cranium depths, it exploded like something uncanny on a mauve disco dance floor.
Now January 27th of 2015 brings yet another, astonishingly new Venom line-up that have premiered all together for "From The Very Depths". Of course it is a genius studio-album title, because these are the words that are spoken whenever Venom take the stage as a demonic voice from Carajoland intones definitely at least all four of those album-title words.
If you haven't caught on and you haven't been paying very close attention, the point may have been missed that I love me some Venom when they play their ace card.
And here they have done it, two albums in a row! Remarkable, though I doubt there are many who will agree with me. I'm not feelin' it and I sure ain't seeing glowing reviews of "From The Very Depths". There are some strongly supportive reviews all about for "Fallen Angels".
I don't know, why don't everybody surprise me and really give Venom's albums all the time they need to saturate each and every brain stem with their uncanny brand of Heavy Music, that is really all their own.
Surrounding the ever-bulbous, as he wears enough sleeveless shirts, Cronos is a new guitar crony and a new drum crony. And he needs to be motivated sometimes as Mr. Mainman don't give a toss sometimes, which is good actually — but not so good for fans. 'Darned if I know who these new guys are, or if I like the LP enough to care. For now, I've got to like the songs. (as we go to print, I want everyone to know, many months have passed since I first started "working" on this review, here. Death Scream took an icy slumber for a bit. Things have gotten very, very interesting. I am lately deluged with savoring the new run of Black F*n Metal with Archgoat, Satanic Warmaster and  Carach Agnen doing a fine job — by leading the pack — on their albums, without me having to look back on and research details off every release coming down the pike. And, by the way, what is it with this early, early part of the year release date for this latest Venom album.?Whoever decided this bullcrap should be fired. If it is Cronos who is responsible, fire him. So be it.
Now, the world's  collective battles-weary batty ears were into the red towards "Fallen Angels" so I smirked about any press I had seen "reviewing" this new one. I knew how fickle reviewers and critics have slyly (via sites where readers rule the roost like Metal Archives), have become. In early 2015, most hacks long-in-the-tooth have either grown hardened or soft. I tend to ride the balance wheel betwixt, as far as reviews go. I lurk in the thresholds of the volcanic depths of the icky-sticky netherworld, riding the twain, betwixt being a fanboy and just telling it like it ought to be.
The first three Venom albums are stone cold classics, which I surely do not need to waste my precious time ranting on about. Though it is on those records/platters/discs; take your pick but they surely weren't digital downloads, then, that Venom may just as well have created the darkness that is a most pitch black doing. Cronos is a personal fave of mine, be warned, and his solo endeavors as well all Venom albums he plays on I always really try my hardest with. Even his solo albums are well done. And many become personal favorites of mine to play and fawn over, over and over again.
Let's get something straight: Cronos is a rock n roller. And, Cronos is a punk. And Venom actually didn't create the musical terrain of Black Metal. It is Punk/Metal that they structure everything around. Though their image and attitude are the exception as they are key in Venom's success. Spell the Venom logo — look at their logo and not the word here btw; and lo and behold, there it is: The word, money. That's what they want, as the old tune goes, right?
It is the lyrics and attitude of the original Venom threesome that make it all work like magic or something. The diehards love this:  Cronos with Abaddon and Mantas. Okay?; I spelled it out for all you drooling morons who like Black Metal like I do also and think it is so adorable that there are all these pet names for the players.
So, for the record, I am praising this album to the high heaven. Oops, that's right, Cronos strongly don't believe on nothing but what is "In League With Satan".
He can go sod off.
I'm off to pub, blokes and blokettes. I misspelled blokettes or whatever.
Yet, most of the morons who are supposed to be professional writers/critics can't spell misspelled, anyway. So who cares. &%$%
Note: Rich Castle just screamed a King Diamond scream and broke some precious little bone china elephant thingy in the kitchen area. Big woof, right?
One more thing, though. Venom will not, not lately, outdo Mr. Warrior or Sodom. Triptykon and Sodom have been on fire over the last several years and the fun keeps on-a strummin'.
'Nuff said.
– Rich Castle