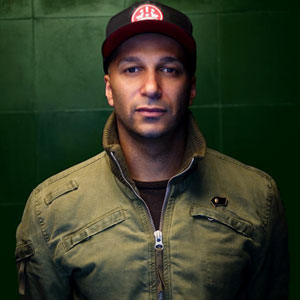 According to The Pulse Of Radio, RAGE AGAINST THE MACHINE guitarist Tom Morello will release a new EP, "Union Town", digitally on May 17 and as a CD and vinyl album on July 19. All profits from "Union Town" will benefit The America Votes Labor Unity Fund via SaveWorkers.org. The disc consists of eight pro-union songs, with Morello saying in a statement, "Unions are a crucial counterweight to the raw corporate greed that torpedoed our economy, threatens our environment and wants to strip away decades of social progress."
Morello played at pro-union rallies in Madison, Wisconsin this past February, where Governor Scott Walker put forward an anti-union bill passed by Republicans.
The title track from the "Union Town" EP is available now at SaveWorkers.org.
Morello will release his third folk-oriented album under the THE NIGHTWATCHMAN name, "World Wide Rebel Songs", late summer via New West Records.
THE NIGHTWATCHMAN is a band name Morello used for two previous solo albums — 2007's "One Man Revolution" and 2008's "The Fabled City".
Morello explained a while back the origin of THE NIGHTWATCHMAN moniker, which started when he first began performing his protest songs in coffeehouses. "I would sign up anonymously, you know," he said. "I didn't want to sign up as Tom Morello and have people, you know, between their mochaccinos clamoring for 'Bulls On Parade'. So I signed up as THE NIGHTWATCHMAN, and it was a moniker that seemed to fit the music that I was writing and playing, and it stuck."
Tom Morello is a founding member and guitarist of the rock bands RAGE AGAINST THE MACHINE and AUDIOSLAVE. The two bands are responsible for multiple Grammy Awards and a combined 30 million albums sold worldwide. Morello has also received critical acclaim as a solo artist known as THE NIGHTWATCHMAN. Widely celebrated for his unique voice as a master electric guitarist, he is recognized by Rolling Stone magazine as one of the "100 Greatest Guitar Players of All-Time" (#26). He is also one of only two guitarists featured as a playable animated character in the overwhelmingly popular Activision video game Guitar Hero III: Legends of Rock.
Tom Morello graduated from Harvard University with honors as a political science major and has been a widely recognized political activist throughout his career. With SYSTEM OF A DOWN's Serj Tankian, Morello formed Axis of Justice, an organization whose purpose is to bring together musicians, music fans, and grassroots political organizations to fight for social justice.
Via Blabbermouth
Death Scream – Heavy Metal Reviews – Heavy Metal Interviews – Heavy Metal News