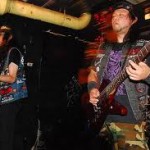 Abigail – The second half of The Top 50 Worst Heavy Metal Bands Of All Time kicks off with Abigail and the 'Intercourse and Lust' album.
'Hail Yakuza' and 'Bonehunter' are a few of the rancid tracks off of this Tokyo, Japan Black Metal atrocity's debut LP from 1996.
A not so obvious clue to this p*ss poor band is that they got signed to an Australian label from completely across the planet: Mordern Invasion Music.
The aforementioned tracks are driving boogie woogie rock 'n' roll patterns played distorted with an evil faggot named Yasuyuki, also on Bass guitar.
Abigail seem to think they are masters of Blackened Death thrash metal like Sodom.
Are you a member of a band? Let's face it, times are tough right now for bands, musicians, and recording artists. Playing out hasn't been the same since Coronavirus came around. Many venues have gone out of business, or have had to scale back. Edzi allows your fans to support your work by paying any amount they choose to watch your pay per view recorded video or live video stream. Most importantly, it's completely free! Sign up now at edzi.com and add your videos!
Youhei on drums is competent enough in a Celtic Frost kind of way, and the recording
and packaging is terrific.
But it all just sounds eerily too similiar to the notorious Satan's Massacre and their LP length demonstration tape album from 1986, that I have already talked about in my overview for this article on The Top 50 Worst Heavy Metal Bands Of All Time.
Even the pre-pubertal, foul mouthed lyrics spewed on 'A Witch Named
Aspilcuetta' reminds of the childish Satan's Massacre.
Here's some lyrics from 'A Witch':
'Your face, your eyes/Your lips, your hair/Your back/Your ass/Your
taste/Your blood/Aspilchuetta'.
'Mephistopheles', track 7, on 'Intercourse' is a great example of Yasumori's
inability to play lead guitar.
It sounds like he had a few lessons and bought some guitar/amp equipment; put on some eyeliner; smoked a joint of marijuana and then said to his buddies in Abigail:
'I now sound like Trey Azagthoth of Morbid Angel and that dude in Nile and I am ready to spread hell on Earth'.
Abigail are the biggest Black Metal band out of Japan, sorry to say, and have
released many albums, EPs, compilations, and concert albums.
Sadly, after all these years they still haven't improved.
It is this proliferation of substandard Black Metal material that Abigail doles out that has earned them a spot of this prestigious list of the worst Heavy Metal bands ever.
You would be better off with Japanese country mates Sigh.
They are great Cult Black Metal and while you are at it check out a band from Italy named Bulldozer.
Bulldozer have albums out and have tons of originality and have an underpinning of Hard Rock in their sound that Abigail has but can't utilize to good effect.
King Diamond of course released an album entitled 'Abigail' in 1987 and that is what
attracted me to this band to begin with, in the early 1990's.
Don't be fooled.
Avoid Abigail, from Japan.
Your life will go on.
– Rich Castle