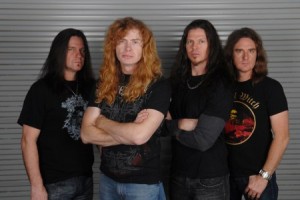 Jon Wiederhorn of Guitar World magazine recently conducted an interview with MEGADETH mainman Dave Mustaine. A couple of excerpts from the chat follow below.
Guitar World: How do you see the new album as a development from "Endgame"? Will it be heavier, more technical, more melodic?
Mustaine: It's gonna be heavy and not slow heavy like BLACK SABBATH or TROUBLE. It's very, very fast heavy.
Guitar World: How many songs did you write for the new one?
Mustaine: We have 12 songs that we're contracted for this record, and that's all we're doing.
Guitar World: You've been pretty busy touring. When did you have time to write?
Mustaine: Some of the songs are old, some are new. Some were written this morning. Some back in the early stages of my career — songs that weren't previously recorded. It's just a variety of stuff.
Guitar World: This will be your second record with Chris Broderick. You've said in the past his playing reminds you of [ex-MEGADETH guitarist] Marty Friedman, with whom you recorded some of your best albums.
Mustaine: Chris and Marty both have their strengths and weaknesses. We've had great guitar players over the years with MEGADETH, and that's been one constant with us. The guitar-playing ability has been consistently good to excellent. We've had some drummers who are average, and the bass playing has always been good. But Chris and Marty are on a level all their own.
Guitar World: Is it satisfying to be working again with bassist David Ellefson again?
Mustaine: Are you kidding? The guy's great. He doesn't make any mistakes. He's just a well-rounded, mature individual. There were several times during the tour where I looked at him and said, "Who are you?" And I know he thought that was kind of funny, but truth was I really didn't know who he was because he has turned into this amazing person and a smoking bass player. It's the greatest thing ever and now we're all getting along really well.
For more of Guitar World's interview with Dave Mustaine — plus a preview of the upcoming MEGADETH album — check out the August issue of Guitar World magazine, which goes on sale June 28.
Photo credit: Stephanie Cabral
Via Blabbermouth
Death Scream – Heavy Metal Reviews – Heavy Metal Interviews – Heavy Metal News