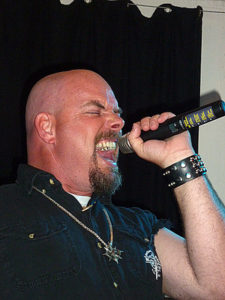 There is not much available for budding singers — much less (powerful) HEAVY METAL — as far as guide/learning books in Barnes & Noble or articles in magazines and online. So as one lead singer to another.
Here goes:
1. Bryan, I have felt your presence and power of your vokills in the club Saint Vitus in Manhattan. Which Manilla Road saved as the last date on their world tour to rapturous applause and adulation from a way-packed house! Is there a DVD upcoming of the band's performance? There is a Bass range to your voice that is not properly conveyed through video cams on YouTube.
2. Tell me about the technical aspects of your singing. Do you wake up and do a few hours of singing and maybe some exercises or martial arts exercises ?
3. Do you sing along to any records and what are your favorites?
4. Are you into the singing of Geoff Tate, Michael Kiske, Rob Halford, Ray Alder (Fates Warning)?
5. Where do you rehearse and do you go for cavernous areas with a lot of echo? I find the best rooms are ones that have divided sections so some sound can escape and not whip back when a loud powerful sustained note is sung — but rather it carries.
6. Do you work on lyrics with Mark Shelton — who can sure weave a tale! — and what subjects do you get off singing about (could you name some of your absolute faves with Manilla Road?)
7. What is left for Manillla Road to conquer? (I know the band will be playing on a Metal Cruise — tell me about this)
8. The Blessed Curse album sounds and I know from talking to Mark born out of a lot of pain suffered at the hands of a female (lol) — do you have A MUSE Bryan that inspires you in the shape of the female form? As a Heavy Metal/Rock singer that has mega-importance to me — lol.
9, Is the band planning to capitalize on the great Blessed Curse LP and when can we expect new material?
10. How did you come to be a professional Heavy Metal singer — can you give us some history and break it down for us fans — You are — and I will say it again — one of the 3 best singers I have ever had the pleasure of hearing "live". I think Manilla Road would be wise to really feature you in a song or special promo video all decked out like the band Unleash The Archer did with the Mad Max stuff. Maybe a quasi-power ballad??
And when the fuck r you bros coming back to NYC? Do you we have to rally to to get you back here? Anywhere in the Tri-state is fine!
Hail Richard, Thank you and Death Scream for the epic questions for this interview. Alright here we go…..
1-NYC Saint Vitus club was a great time for us, yes it was the last shows for 2014 and what a way to rap up a really great year for Manilla Road.No plans yet with the tour photage that was captured during last years tour. I know we have had a few European shows fully recorded, who knows what Sharks planning to do!! Haha!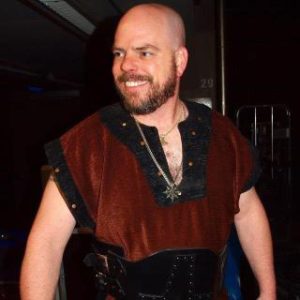 2- Yes there is a lot of fan uploaded videos on YouTube some are really cool and some not so, but to me I'm honored they took the time to share what they enjoyed from our shows. Its hard to get a great sound out of one small microphone attached to todays cameras. But to my vocal style or technic, its pretty simple. I sing everyday for 30minutes, usually after being awake for more than 4hours. This gives me plenty of time for my cords to warm up.Its hard when your on tour because you have to be real cautious to not over work your voice, even talking. In the studio its a whole different animal when it comes to recording or singing live. At least for me it is. I feel more confident singing live then I do in the studio. Live is in the moment, staying in the pocket and working your microphone. I see a lot of great bands out there and the first thing that comes to mind is, oh man, his or her throat will be hell tomorrow. Sometimes that happens when you push it to hard. I try to sing at one volume and practice that volume. So when its time to do live shows and there is aways horrible monitor mix going on, if you just stay in the comfort zone more times than not your vocals will sound great out in the front.
3- No I don't really sing to other albums, but every once in awhile I'll crank up some Priest, Sabbath (dio or Tony ) years. Really love Ripper Owens style , Dude has range from hell! But when its time for me to come up with setlist I try to pay attention to not slamming Shark or myself with tough ones to belt out. Probably really one of the reasons I took over vocal duties for the Road. It tough and takes a lot of work and effort to play many shows in a row. You really have to prepare for battle.
4- The vocalist you ask about are very unique but very different in many ways. Tate, Halford are perfect examples of singing in same styles but also have very different approaches to what they are trying to portray in their songs. I just don't admire metal singers either. Ian Gillian is one of those rock voices that delivers the passion and power.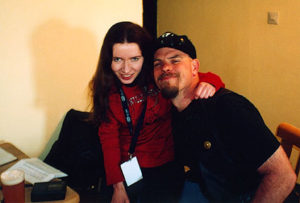 5- Most of the time when I rehearse on my own it's in my garage. I will have our set list set up in order on my player and sing along. Like I said before I always warm up first before attempting any singing. A cup or two of tea or coffee helps and breathing exercises. When I'm rehearsing with the band I focus on staying at one volume and allowing the mic to work. Most singers understand the dynamics and Mic capabilities, the ones that do usually have success at keeping their voices strong for long periods of time. The ones that don't, well you know, don't last long in the scene and damage their vocal cords. If you have ever damage your vocal cords then you know it's the worst pain and normally is never the same after healing. Ask Mark he can attest to my comments. He developed chronic laryngitis back in the eighties while recording an album while being sick at the same time. Not a good idea to do. But back in them days you booked studio time to record, a lot of money went into this studio, so time is money. Looking back, I'm sure he wished he had waited until he was feeling 100%. The serious damage came in the early nineties during a Circus Maximus show he pushed it too hard and ripped a couple of his vocal cords. I have to be honest here, it was a very bad deal for him for about a month, he couldn't say a word, whisper anything. He had to write down everything, man it was a great month 🙂 hahaha
6- Ooh no, Shark writes all the lyrics. It's best this way. I would just write down some dumb warpond shit. Haha Inside joke, but Mark really write some awesome material and it's fun for me to sing. Also if he writes some lyrics that sounds weird or dumb, then it's all him!! 🙂 The hardest thing for me these days is remembering all the damn lyrics.
8- Dude, give me some of what your smoking..hahaha. I believe your thinking about Marks solo project which will be released very soon on zyx/ golden core records. As far as what inspires me, Boo of Muse for sure! I'm not into make up , so no female form for me! Lolol
9- Well we are plotting our Blessed Curse West Coast Tour for this October 2015. Fourteen shows in twenty days so be a blessed great time. We are going to wrap up this year with a special all Hallows eve show here in Wichita. We have started poking some ideas for new material, but not sure as to when it will be released.

10- Thank you for the kind metallic words! Really never set out to become a heavy metal singer, just sort of happened. Back in junior high and high school I sang in our schools men ensemble choir, and did some solo competitions. Nothing major, but something I enjoyed doing. Back in the eighties at the age of 15 I became a roadie for Manilla Road. Throughout the years taking on different responsibilities, roadie, tour manager etc. The year 2000 was when I took over the vocal duties and honesty the only reason was purely for live show support. In order for Manilla Road to tour and play multiple shows this really needed to happen. Whether it was me or someone else's duty, Mark needed help with the singing. His chronic laryngitis could and still does flare up from time to time. He has been a brother to me for 33 years so this was something that I could do to keep Manilla on tour, and keep paving the Road to new lands. It's still funny for me to hear myself on recordings. I work very hard and put in endless hours to perfect my craft in the studio. During our live shows I just stay in the pocket and deliver the best that I can. After the show is over and fans come up to me with glorious praise and blown away expectations, it makes all the hard work so worth it. So I would like to say thank you very much to all our fans out there that continues to holding the hammer high, supporting our music and coming to our live shows. I'm very honored with your epic support and because of this, I will never lay my sword down! Hope to see you Manillians out on tour!! Up the Hammers!Please visit www.manillaroad.net for up to date show information and merchandise
Forgotten question #7 (answered finally by Bryan) – Manilla Road conquests in 2016: 70,000 Tons of Metal cruise in February. European club and festival shows in the summer as well as more US dates too…
– Rich Castle