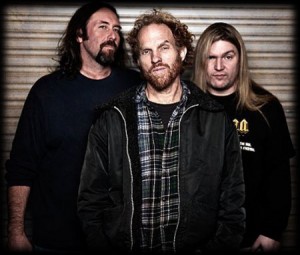 DJ Will of KNAC.COM conducted an interview with the reunited classic "Animosity" lineup of CORROSION OF CONFORMITY — Mike Dean (bass, vocals), Woody Weatherman (guitar) and Reed Mullin (drums) — last month at Dave Grohl's (NIRVANA, FOO FIGHTERS) Studio 606 in Northridge, California. You can now watch the chat below.
CORROSION OF CONFORMITY is currently recording its new album with longtime producer John Custer (1991's "Blind", 1994's "Deliverance", 1996's "Wiseblood", 2000's "America's Volume Dealer", 2005's "In The Arms Of God").
In a recent interview with Metal Kaoz, Dean stated about the band's new material, "It's going to be familiar but surprising. All of the old influences are there — hardcore, three generations of heavy rock and no rules as to how to combine them and make something new and creative."
With the twenty-fifth anniversary of the classic "Animosity" album approaching, the original incarnation of CORROSION OF CONFORMITY played its first live show in over twenty years on July 30, 2010 in Asheville, North Carolina.
The reunited trio has recorded a new seven-inch single, "Your Tomorrow (Parts 1 and 2)", which was made available via Southern Lord's web site.
Mullin co-founded CORROSION OF CONFORMITY in 1982 as a hardcore punk act alongside Weatherman and Dean before leaving the band in 2001 amidst health concerns.
CORROSION OF CONFORMITY's latest album, "In the Arms of God", came out in 2005 on Sanctuary Records. The group's first collection of new material since 2000's "America's Volume Dealer" was produced by C.O.C.'s longtime collaborator John Custer.
Via Blabbermouth
Death Scream – Heavy Metal Reviews – Heavy Metal Interviews – Heavy Metal News