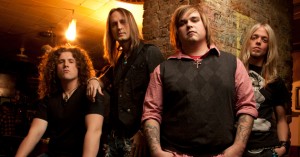 Thanks so much for talking with me. It has been a while. How have you been?
I'm doing really good.
What are you doing for the holidays?
Actually, I am sitting in my girlfriend's house right now and we just bought a bunch of pro level tanning lotions. We are selling them, so we are being entrepreneurs this Christmas. The town we live in is 2,000 people, so it is really small. Everybody knows everybody, so it is really cool to be home for the holidays. The closest town with a mall is 30 miles west of here and so it is really rural where we live.
Are you going to NAMM in January?
I'm going to try to go to NAMM. I'm going to try to get one of the companies to bring me out. Are you going this year?
Yeah, it is literally fifteen minutes from my house.
Wow! It is quick to get there then. I've told my girlfriend that we are going to go out there for the past two years and it never works out because I keep putting it off. We are going to try and go this year.
You guys have been a band for ten years now. Does it feel like it has been that long?
We have actually been a band for ten years, we turned the big ole ten on June 4th. We started on Chris's birthday June 4th, 2001. We had our tenth anniversary this summer and it was really nice. We were home, had a little get together and a barbeque. It doesn't feel like ten years because we got signed in 2005 and started making our record then, so it is just one of those things where it doesn't feel that long. I was just thinking the other day about gigs we've played and I was like "That was four years ago and that doesn't seem that long ago."