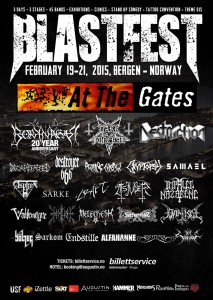 I have come to the conclusion that being clued in to the often disparate listening habits of the musicians I listen to, will lead my brain to a big "?". When I saw that Tomas Lindberg had for January 2015, a recommended list for/on Spotify — posted at the top of the band's official website —  I lamented. Phobocosm, Loop, Execration, the Durutti Column, Lurker of Chalice, Bauhaus. Umm? It's like: Geddy Lee, of Rush (of course), listens to and name-drops Bjork. I don't listen to her music! Maybe if someone puts it on for me, I will definitely — being a musician — give it a listen.
I do listen to At The Gates. I am thrilled that  At The Gates got it together again, during 2007, to resume making albums. The audience is different now. They have almost heard everything, or so they think. I don't think it' all been said and done. Nor should anyone think that heaviness is the be-all-end-all.
Yet, for At The Gates, it has taken a long time to return and get it just right.  I thrilled to "Gardens Of Grief" in 1991. They had a good thing going, with an EP/Demo to start, leading to four amazing Swedish Death Metal albums. In rapid succession, came "The Red in the Sky is Ours" (1992), "With Fear I Kiss The Burning Darkness" (1993), "Terminal Spirit Disease" (1994), and "Slaughter of the Soul" (1995); all monstrous full-length studio albums.
All with, the three words of, the catchphrase "Gothenburg Death Metal" etched upon the corridors of time.
Those in the know, will know of the amazing pre-At The Gates forerunner band: Grotesque. "In The Embrace of Evil" (this collection from 1999 is a must-have compilation), yet Tomas Lindberg canned their revival in 2007 after only a few shows.
Merciless, Morbid, Nirvana 2002, Obscurity, Bloodstone, Necrophobic, Repugnant, and others are contemporaries of the sound At The Gates pioneered. At the outset of the '90's decade, Swedish area bands now very diverse like Tiamat, Therion, and Dark Throne(Norway), were honing in with Death Metal and Black Metal and Thrash Metal all featuring very highly in their attack patterns. Grave, Unleashed, and (to an extent) Hypocrisy — all Swedish Death Metal bands — tended to sound different, though; more warrior-minded and battle-centric. Immortal and even Bathory (at times), though, had firmly grabbed onto a hybrid style owing to At The Gates and their winning take on Death Metal, making for an added touch of panache, as did other Black Metal acts as time coalesced into the present daze(sic).
At The Gates, from right out of the gate(sic), were incredibly talented leaders at their craft. "The Book of Sand (The Abomination)" is a perfect track on this "At War With Reality" 2014 masterpiece that has all the balls-out hallmarks of a band as fatalistic, dramatic, and extreme as Paradise Lost and In Flames had been, yet have gotten away from being — as time has pressed on.
"At War With Reality" is as much an historical marker as, one could say — Venom's 1983 "At War With Satan" studio LP. Heavy Metal, Hard Rock, and Rock, have all enjoyed a splendid resurgence in popularity as of late. Whether it is Manilla Road, Judas Priest, Graveland, Bring Me The Horizon, Behemoth, Elton John (!), Coldplay, or Foo Fighters. 2014 has had a "who gives a f*&(" attitude, ascribed to it — the world conjoining into a rough-sewn patchwork place — yet instilled with a long history of those who choose to simply Rock! Hey, it's all good!
Dark Tranquillity is surely top notch, but we truly needed At The Gates back. The Haunted, who came out of what was left of At The Gates never thrilled me. Arch Enemy, Soilwork, Diabolical Masquerade? Yes, they kept the fire burning and a fever pitch to the blood in our veins. Call some of these bands I've mentioned including At The Gates, Melodic Death Metal; I don't care — yet I don't like the term. I have had this opinion for a long time. The word "melodic" is somehow strangely used; almost incorrectly in the true sense of proper grammar and cadence with the English language. Overused, it certainly can be argued, is the word "melody".
Stick with this modern At The Gates album and let the whole thing play out in it's correct recorded tracking order. I have already mentioned a deep cut that will reward you for your due diligence; At The Gates simmer slowly before coming to a full boil. Yet, please, don't go expecting the music to be akin to what ATG did 20 years ago, either.
At The Gates are shocking and rocking us with a newly found flair I never, honestly, expected to hear, should they ever have returned — like they have, obviously. They had been so harshly heavy in the dark past, that it comes as almost an epiphany that "At War With Reality" is their best thing yet! The new ATG is going to draw in factions of fans of many different hard and hot and heavy, sub-genres of music.
Maybe even Rush and Bjork fans!
Some other highlights on this album: "City of Mirrors"/"Eater of Gods" — an atmospheric few minutes ("City…") precedes this Kreator-like chugger. Middle-Eastern style leads nicely decorate. "Upon Pillars of Dust" is just unbelievably inventive. Amazingly, faux-chaotic, this cut almost hearkens back to what Sacrifice from Canada and Exumer were attempting in their most creative and diverse moments. Be prepared though, overall, the songs are strangely short, except for "Heroes and Tombs" (yeah, baby!);  excepting the closing "The Night Eternal" (just perfect for a last cut).
Please don't do what these disposable days have wrought in many a music fan. What that is, is listeners ADDed-out, listening half-heartedly. Just play "At War With Reality" through, over and over. The grooves will be etched upon your heartstrings. Just buy the darn thing, sight unseen. It is that, that good.
Believe you, me.  Sincerely,
– Rich Castle