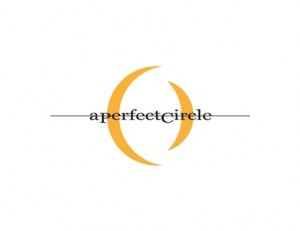 A PERFECT CIRCLE guitarist Billy Howerdel says that the band is close to finishing up a new song which it will play on the band's upcoming summer North American tour. As for whether the yet-to-be-titled track will lead to a full album's worth of material, Howerdel told The Pulse Of Radio that he doesn't see a full-length record happening. "I like records," he said. "I still like records. I have great memories of having anticipation of hearing a whole album and ingesting it slowly and drinking it all in. To me, I have desires of making a record, but it just doesn't seem like people are interested. It just seems that everyone likes to digest things much quicker and have less patience."
A PERFECT CIRCLE will tour North America for the first time in six years this summer. The tour kicks off next Wednesday (June 29) in Portland, Oregon.
These will be the band's first live dates since a mini-tour they did last fall, in which they played each of their three studio albums over the course of three nights in five cities.
The 2010-2011 lineup of A PERFECT CIRCLE includes singer Maynard James Keenan, Howerdel, drummer Josh Freese, former SMASHING PUMPKINS guitarist James Iha and bassist Matt McJunkins.
Freese announced last month that he will not be performing with the band on its summer tour. Freese issued a statement at his official web site in which he said his decision was "maybe the hardest . . . I've ever had to make professionally and it hasn't been easy on me. I've been looking forward to APC reforming for years now and the timing just couldn't have been worse. I'd already committed the time to WEEZER and I am a man of my word. As much as I hate to have to miss the APC tour there wasn't a whole lot I could do about it."
Jeff Friedl of ASHES DIVIDE and PUSCIFER will fill in on drums for A PERFECT CIRCLE until Freese returns.
A PERFECT CIRCLE currently does not have a record deal.
Via Blabbermouth
Death Scream – Heavy Metal Reviews – Heavy Metal Interviews – Heavy Metal News