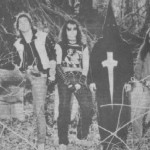 Exorcist are next on the chopping block.
This is a side-project released in the Mid-1980's by somebody who didn't want to ruin his "so called" reputation in the Power Metal scene.
So famous is the man behind all this that I forgot his name.
Are you a member of a band? Let's face it, times are tough right now for bands, musicians, and recording artists. Playing out hasn't been the same since Coronavirus came around. Many venues have gone out of business, or have had to scale back. Edzi allows your fans to support your work by paying any amount they choose to watch your pay per view recorded video or live video stream. Most importantly, it's completely free! Sign up now at edzi.com and add your videos!
Now Swede Dan Swano of Edge Of Sanity and Diabolical Masquerade can make horrific songs come alive in the Death Metal genre, and Celtic Frost circa Emperor's Return and Morbid Tales can scare ya silly; German Thrashing Deathsters Exumer are Teutonically fierce; Exorcist are just plain sad.
I pointed out the problems with the mixdown of the tracks on this, the 'Nightmare Theater' album and that's just the stale icing on the week-old Halloween cake. If there had been a label affixed to the record sleeve it would certainly warn of a Walt Disney-like production.
Utter nonsense.
– Rich Castle