These very metal Noo Yawkers released 'Unlaced' in 1984 and 'Get It While It's Hot' in 1987 on Mausoleum Records.
Are you a member of a band? Let's face it, times are tough right now for bands, musicians, and recording artists. Playing out hasn't been the same since Coronavirus came around. Many venues have gone out of business, or have had to scale back. Edzi allows your fans to support your work by paying any amount they choose to watch your pay per view recorded video or live video stream. Most importantly, it's completely free! Sign up now at edzi.com and add your videos!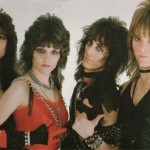 The sound of Blacklace is akin to smelling human hair that has been spiked up with glue and mousse and not washed for a week because of constant partying. Maryann Scandiffio is the-bitch-next-door; so why go out and buy this when you can stay home and listen through your ghetto apartment's thin walls as a husband threatens to kill 'his bitch' again for actin' like she's cheatin. Or putting it another way do you really need to hear a generic heavy metal song called 'March Of The Black Witch' or 'Hot for You'? Let's face the facts; half the people in bands like this are old decripit junkies anyways.
– Rich Castle