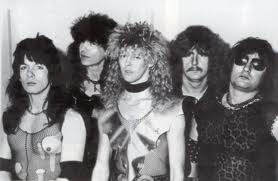 Sad Iron from Holland made two albums of Evil Fantasy Metal: "Total Damnation"- 1984 LP and "The Antichrist" 1985 LP.
If you look at the "Total" album cover art you will see the Devil with wings above the
Sad Iron logo that is crying.
Are you a member of a band? Let's face it, times are tough right now for bands, musicians, and recording artists. Playing out hasn't been the same since Coronavirus came around. Many venues have gone out of business, or have had to scale back. Edzi allows your fans to support your work by paying any amount they choose to watch your pay per view recorded video or live video stream. Most importantly, it's completely free! Sign up now at edzi.com and add your videos!
The music, if you can call it that, of this band is pitiful, Garbage Metal.
A would be cool title like "Hellfighter", in the hands of these sad boys
is completely useless.
– Rich Castle