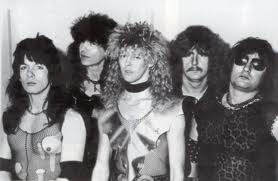 Sad Iron from Holland made two albums of Evil Fantasy Metal: "Total Damnation"- 1984 LP and "The Antichrist" 1985 LP.
If you look at the "Total" album cover art you will see the Devil with wings above the
Sad Iron logo that is crying.
The music, if you can call it that, of this band is pitiful, Garbage Metal.
A would be cool title like "Hellfighter", in the hands of these sad boys
is completely useless.
– Rich Castle