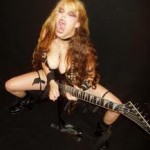 Not to be confused with the Polish band Kat, The Great Kat is a super talented, tough big shot, who likes to run her mouth and blow her own horn about how fast and talented she is on the electric guitar.
Her 'Worship Me Or Die' debut album came out on the now defunct record label known as Roadracer.
She burns up the fretboard on her guitar doing her classical hodge podge on each consecutive album.
Are you a member of a band? Let's face it, times are tough right now for bands, musicians, and recording artists. Playing out hasn't been the same since Coronavirus came around. Many venues have gone out of business, or have had to scale back. Edzi allows your fans to support your work by paying any amount they choose to watch your pay per view recorded video or live video stream. Most importantly, it's completely free! Sign up now at edzi.com and add your videos!
The Great Kat doesn't have any vocal talent to speak of — instead, opting for a hoarse, downright annoying delivery.
Maybe she should do a duet with Lady Gaga.
Yngwie Malmsteen does this virtuoso stuff the right way on his 'Marching Out' LP.
The Great Kat is too much with the fleeting fingers.
Her 'Beethoven on speed' approach is just not too endearing a proposition.
– Rich Castle