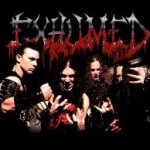 Exhumed – Here's an entry in The Top 50 Worst Heavy Metal Bands Of All Time that will prove once and for all that I am not afraid to voice my opinion.
Even when I say what I am gonna say about one of America's beloved recent Grind champions.
Splatter Gore/Death Metal/Grindcore is the order of the day for this very popular band of freaks known as Exhumed who love being doused in fake blood on stage and having truly grossed out album covers like the one for 'Anatomy Is Our Destiny' on Relapse Records.
Are you a member of a band? Let's face it, times are tough right now for bands, musicians, and recording artists. Playing out hasn't been the same since Coronavirus came around. Many venues have gone out of business, or have had to scale back. Edzi allows your fans to support your work by paying any amount they choose to watch your pay per view recorded video or live video stream. Most importantly, it's completely free! Sign up now at edzi.com and add your videos!
Origin, Skinless, Suffocation, Incantation and Impaled's play this totally boring style of Grindgore.
It takes Europeans to truly understand the Metality factor in executing this style.
Haemorrhage (Spain), Blood, Carcass, Cadaver and Pungent Stench are the masters of Gore and are all from across the ocean.
Why do my fellow Americans seem to think Hardcore Punk is the influence that must be poured into this Heavy Metal subgenre?
– Rich Castle