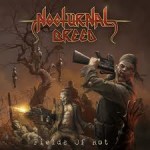 Nocturnal Breed – 'Thrash The Redeemer' charges out of the gate as if it was 'Metal Militia' by Metallica.
Oh no it isn't.
So the drums are thrashing and the guitars buzzing as the bass guitar thumps away.
Looking like a bunch of jackasses, this Dutch quartet consisting of Tex Terror, Destroyer, I. Mastor and Ed Damnator play pseudo-scary Thrash Metal that is pretty heavy, in the form of 'No Retreat, No Surrender'; their debut LP on the Netherlandic record label of Hammerheart.
Are you a member of a band? Let's face it, times are tough right now for bands, musicians, and recording artists. Playing out hasn't been the same since Coronavirus came around. Many venues have gone out of business, or have had to scale back. Edzi allows your fans to support your work by paying any amount they choose to watch your pay per view recorded video or live video stream. Most importantly, it's completely free! Sign up now at edzi.com and add your videos!
Thrilling.
I have no idea what they're barking about and the songs have no sense of dynamics to them at all.
More Throw-It-Away Thrash Metal.
– Rich Castle