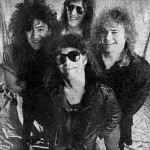 The Godz have a 10-minute number called 'Candy's Going Bad', from 1978, which is a cover originally done by the Netherlandic band from Holland called Golden Earring.
Golden Earring are known for the classic hit 'Radar Love'.
Why would these fools want to mess with this song?
Why not 'Radar Love'?
Here are two lines from 'Candy's Going Bad': Candy's going bad / She's got stars in her head.
That don't even freakin' rhyme.
Are you a member of a band? Let's face it, times are tough right now for bands, musicians, and recording artists. Playing out hasn't been the same since Coronavirus came around. Many venues have gone out of business, or have had to scale back. Edzi allows your fans to support your work by paying any amount they choose to watch your pay per view recorded video or live video stream. Most importantly, it's completely free! Sign up now at edzi.com and add your videos!
Forget about it.
Who cares.
The Godz' self-titled debut album has gunk on it like 'Gotta Keep Runnin".
The second effort by The Godz, 'Nothing Is Sacred' featured a Stevie Ray Vaughn-like 'Hey Mama'. More ungodly stinkers from 'Nothing' are 'Snakin" and 'I Don't Want To Go Home'. The latter tune is Blues stupidity that the late great band Foghat could run a steamroller through.
With weak-wristed crapola like this second The Godz LP, it is no wonder that 1979 was the year The Bee Gees broke the Disco scene in a big way.
Returning in 1987, The Godz dropped the 'The' in their band name, and hence the album 'Mongolians'.
'Chest Fever', an asinine song, was featured and it is a cover of 'The Band' song.
The Rods are a much better choice than The Godz, or just Godz if you will.
File this entry of worst Heavy Metal bands ever away with Legs Diamond and Autograph.
– Rich Castle