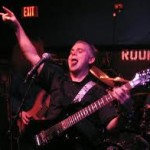 Bat Castle, from Texas U.S.A., have a novelty approach and that is their theme to 'Batman' and it is part of their Blackened, Death Groovy Metal, Grindcore approach featured on their self released album from September 2004.
Clocking in at twenty-three minutes in length, featuring 6 measly tracks; the music of Bat Castle don't live up to what looks so good on paper.
Retard Metal that my first band that I had when I was 10 years old, Semi-Ugotz,
that practiced in my bedroom, could blow away.
Bat Castle write songs about vampires.
Are you a member of a band? Let's face it, times are tough right now for bands, musicians, and recording artists. Playing out hasn't been the same since Coronavirus came around. Many venues have gone out of business, or have had to scale back. Edzi allows your fans to support your work by paying any amount they choose to watch your pay per view recorded video or live video stream. Most importantly, it's completely free! Sign up now at edzi.com and add your videos!
I'll stick to True Blood, thank you.
Matt 'The Bat' Thompson used to play drums for these guys and was also a member of King Diamond's lineup.
Band affiliations include Shaolin Death Squad and Vesperian Sorrow — names that should be known to tape traders.
Maybe the next Bat Castle album will show maturity in the band's ranks, get signed by Atlantic Records and sell a million dollars.
And I have some holy water to sell you.
– Rich Castle