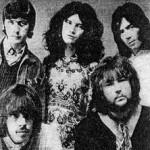 Trapeze – A proto Heavy Metal, hard rocking band, from the U.K., that formed in 1969 and featured Bob Kendrick and Pete Wright on guitars.
If these names don't ring a bell in your head as being rock guitar God legends; It's because they sure aren't.
A ratty guitar sound and lead solos squeezed out of a cheese grater made albums like 'HotWire' as bad sounding as the album cover artwork.
While Montrose and Eric Clapton's Cream were crankin' it out, Trapeze eeked out 'Loser'
from the 1972 'You Are The Music…We're Just The Band' opus.
Are you a member of a band? Let's face it, times are tough right now for bands, musicians, and recording artists. Playing out hasn't been the same since Coronavirus came around. Many venues have gone out of business, or have had to scale back. Edzi allows your fans to support your work by paying any amount they choose to watch your pay per view recorded video or live video stream. Most importantly, it's completely free! Sign up now at edzi.com and add your videos!
Even Glenn Hughes' involvement in Trapeze couldn't save these losers who disappeared somewhere in the late 1970's tie-dyed post acid-fallout days.
Does anyone remember the crowd favorites- 'Dat's It' and 'Good Love'?
Didn't think so.
That's it.
– Rich Castle