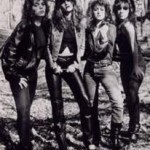 Original Sin – Danielle Draconis provided the lead vocals on this band's 'Sin Will Find You Out' album released in 1986.
Original Sin along with Meanstreak were all female Heavy Metal bands from the Eastern seaboard of the United States.
Light thrash meets Power/Speed Metal original numbers like 'The Curse' and 'Bitches From Hell' done in an infectiously catchy style filled their one and only album.
'Disease Bombs' comes off mistakenly as the perfect paean to that rock goddess you met in trendy Washington Square Park while on vacation in New York City only to wind up in the doctor's office a few heavy dates later with a bad case of the 'crabs'.
The bomb explosions and Mickey Mouse voice at the end must be heard to be (dis)believed.
Are you a member of a band? Let's face it, times are tough right now for bands, musicians, and recording artists. Playing out hasn't been the same since Coronavirus came around. Many venues have gone out of business, or have had to scale back. Edzi allows your fans to support your work by paying any amount they choose to watch your pay per view recorded video or live video stream. Most importantly, it's completely free! Sign up now at edzi.com and add your videos!
The album cover of 'Sin' by these femme fatales depicts a woman removing her black brassiere to reveal a naughty little tattoo underneath. She wears a cross shaped earring, to boot.
It all makes too much sense. 'Pandora's Box'? Okay. Maybe this is a song that points us to where to find the disease!
A catchy chorus repeats the line 'Won't you open Pandora's box' insistently, in slutty fashion.
Supposedly those who like Cheesy albums by Exorcist, Anvil & The Great Kat will squeal in delight over this one.
Other titles on 'Sin.' include 'Enchantress Of Death', 'Succubus' and 'The Curse'.
Like the little girl in that great horror film goes: 'Be afraid. Be very afraid.'
– Rich Castle