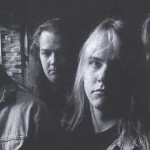 Formed in 1986 in Helsinki (Hell stinky) Finland.
Get ready to hold your noses and try to sing like Ozzy: It's Airdash doing their full length Debut LP, 'Both Ends Of The Path', on Black Mark Productions record label out of Germany.
An evil skull for the album's cover art holds the big lie as 'Both' accomplishes nothing. 'Savage Ritual' is a lie.
Are you a member of a band? Let's face it, times are tough right now for bands, musicians, and recording artists. Playing out hasn't been the same since Coronavirus came around. Many venues have gone out of business, or have had to scale back. Edzi allows your fans to support your work by paying any amount they choose to watch your pay per view recorded video or live video stream. Most importantly, it's completely free! Sign up now at edzi.com and add your videos!
Nothing savage here. 'So It Goes' attempts to thrash out with a snare drum that sounds like champagne corks popping; shouted backup vocals rabble rouse in the background.
Ooh what an awful tone!
Nix this quick.
– Rich Castle