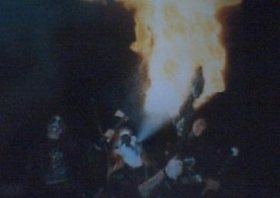 Azazel are a band from Finland that have shared an EP with Goatmoon for a 2006 EP.
Azazel are back after many years in a coma, as the press release for Nuclear War Productions Now reads. A member of this band killed himself back in the 1990's.
Positioned at number 13 on my list is this pro-Satanic band. "Praise Hail Satan' and 'Evil Spells From The Black Gods' sound like they were recorded in the toilet bowl.
That porcelain altar I speak of is also a good place to hurl after you get fired up on a bottle of Jack to celebrate finding this evil piece of sh*t band's music and proceed to throw it on your stereo while you and your dumb friends yell 'F*ck!' at the top of your lungs for over 10 minutes straight.
I spilled coffee all over my stereo earlier today when I found out for the first time online that that dumb f*cker in this band killed himself.
I also remember some bad sh*t happening in 1993 when this band sent me some garbage they had recorded.

You might think it is unfair of me to single out these guys as being the world's most ultimate unlucky jinxey band in the world. I am not being unfair. The band's unreadable logo is more utter shite.
– Rich Castle