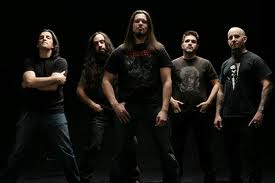 9. Anthrax – origin: Bronx, New York City – This hardworking band was formed by guitarist Scott Ian and bassist Danny Lilker way back in 1981.
They eventually became one of the big four, as they are called, Thrash Metal bands that includes besides Anthrax; Megadeth, Metallica and Slayer.
Anthrax used Hardcore Thrash and New York City's Rap music motifs in their, sometimes hard on the ears, streetwise music.
Anthrax released many albums starting with their debut disc which came out in January 1984, on Megaforce Records. 1985's 'Spreading The Disease' LP, 1987's 'Among The Living' LP, and 1988's 'State of Euphoria' LP form the core of the Anthrax catalog.
Charlie Benante can be cited as the reason for the band perservering so long, as his drumming has been cruelly underated and in concert it is clear that this man provides the backbone and as such can be viewed as Anthrax's 'go to' guy.
I hung out with Charlie Benante for a little bit back in the good old days when I fronted the band Cold Sweat and I was impressed by his sober, quiet humbleness.
As per usual for this band that wore shorts on stage, the funnily presented 2003 album 'We've Come for You All' was the last we heard from these guys as far as studio jaunts were concerned. However in 2010 Anthrax took part in the captured-on-video spectacle that is 'The Big 4 Live From Sofia, Bulgaria'. The video has exceeded two- times platinum, in sales.
– Rich Castle
Death Scream – Heavy Metal Reviews – Heavy Metal Interviews – Heavy Metal News