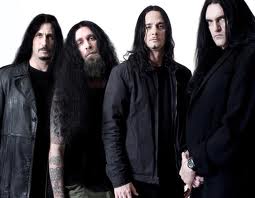 8. Carnivore/Type O Negative – Brooklyn, New York – A macho Heavy Metal trio headed by the huge mountain of a man whom nobody but his family and close friends knew as Petrus T. Ratajczyk, which may remind only the most fanatical of knowledgeable Metalheads out there of the birth name of Alex Lifeson, guitarist of the band Rush, who was born Alex Zivojinovich.
Lord Petrus Steele or the alter ego-less, more easily construed  Peter Steele is the name you'll remember of bass player/lead vocalist of the stormtrooping, pioneering Thrash Metal meets Doom Metal act called Carnivore.
The 1985 self-titled Carnivore debut LP came out in 1985 with charging anthems like 'Male Supremacy', 'Predator' and the very sexual 'S.M.D.' which was added later on for the reissue.
'World Wars III and IV' would foretell the future direction Peter Steele would take with his all-new band Type O Negative in the 1990s.
This was probably the first time I heard the vampyric term Gothic Metal; just before Black Metal would lay claim to this musical territory as it's own and alternately Extreme Metal heavies like Nightwish, Cradle Of Filth, Evanescence, and Disturbed would proceed to join the allure of the dark, black powerfulness that comes along with Gothically baying at the moon all night.
Type O Negative gave Mr. Peter Steele his brand new start as a brand new act proceeding first with the1991 debut LP, 'Slow, Deep and Hard'. 'The Origin of the Feces', the sophomore T.O.N. disc stretched the limits of Extreme Heavy Metal in every way that the wonderfully warped mind of Peter Steele could imagine. 1993's 'Bloody Kisses' is the most Gothic crusade of all the T.O.N. platters, and there are seven T.O.N. studio albums.
The last album before Peter Steele's demise that Type O Negative released was 'Dead Again' in 2007 and it was more than a little too dark and mired in negativity to be fun anymore, at least for myself.
Carnivore did have a band reunion, however, and many still prefer the savage 'before Christ'/B.C. Metal ground that Steele and co. plowed with Carnivore.
Peter Steele, would die on the date of April 14th, 2010 just as he was enjoying his reunion with Carnivore.  Heading out as a unit onstage again, Steele and co. performed a bruising Carnivore set at Wacken Open Air, most notably, in 2006.
– Rich Castle
Death Scream – Heavy Metal Reviews – Heavy Metal Interviews – Heavy Metal News