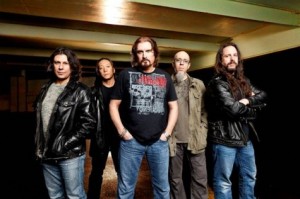 7. Dream Theater – Long Island, New York – this Progressive Metal band with virtuostic musicianship formed in 1985 under the name Majesty.
Guitarist John Petrucci, bassist John Myung, and drummer Mike Portnoy who all met up while attending Berklee College of Music in Massachusetts U.S.A. make up the molten core of this very cerebral band of musos.
It should be noted that they all dropped out early from Berklee, as well! Dream Theater's debut LP  'When Dream and Day Unite'  came out in 1989 and along with the following discs helped cement Dream Theater as the leaders, along with Yngwie Malmsteen who debuted as a solo artist earlier in the decade, of the newfangled neo-classical Progressive Heavy Metal movement: 1992's 'Images and Words' LP,  1994's 'Awake' LP, and 1999's brilliant 'Metropolis Part 2: Scenes from a Memory' LP.
2009 saw the release of the most recent D.T. spectacle: the 'Black Clouds & Silver Linings' LP.
Dream Theater display blazing, breathtaking abilities on each members' respective instruements.
Unfortunately, core member Mike Portnoy is no longer a member of Dream Theater but the band still sound fresh and a new album is on the way for this year, 2011.
– Rich Castle
Death Scream – Heavy Metal Reviews – Heavy Metal Interviews – Heavy Metal News