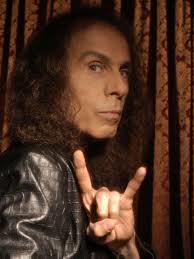 6. Dio – Cortland, New York/Portsmouth, New Hampshire –  coming in at number six is mostly everybody's favorite voice of Heavy Metal's own band; we're talking about the group Ronnie James Dio started himself in 1982 called Dio, along with Vinny Appice on drums both of whom  had just played on the much disagreed upon by Black Sabbath's own band members' 'Live Evil' album.
Ronnie James Dio of course is a masterful Heavy Metal/Hard Rock performer who has graced with his vocal cords the albums of Black Sabbath, Heaven & Hell, Rainbow, and Elf.
'Holy Diver', the debut Dio disc, from 1983, became a Heavy Metal genre classic along with the following year's 'The Last In Line' LP.
Subsequent records by Dio would not fare as well in popularity but contained enough highlights to cement a tried and true following: 1987's 'Dream Evil', 1990's 'Lock Up The Wolves', and 2002's 'Killing The Dragon' make up a significant part of  Dio's discography.
– Rich Castle
Death Scream – Heavy Metal Reviews – Heavy Metal Interviews – Heavy Metal News