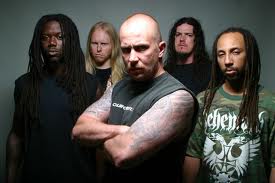 5. Suffocation – Centereach, New York – this brutal Technical Death Metal band is so over the top that their sound was one of the reasons pundits came up with the word 'Grindcore'.
Suffocation have been a massive influence on today's young bands wanting to be play Extreme Metal.
The name of this band who if you hadn't noticed rhymes with Suffocation have in common with each other also that both are powerhouse New York Death Metal units that have been making albums for twenty years running.
Suffocation have six full-length studio albums in their catalog to date. 2009's 'Blood Oath' is the most current Suffocation opus and this Nuclear Blast Records act shows no sign of slowing down.
The 1991 Suffocation debut LP, 'Effigy of the Forgotten', remains an almost literally, eye-gouging classic.
– Rich Castle
Death Scream – Heavy Metal Reviews – Heavy Metal Interviews – Heavy Metal News