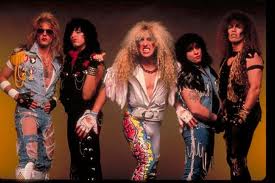 3. Twisted Sister – Long Island, New York –  here is the Heavy Metal band that became the 1980's answer to the 1970s Glam Metal forerunners, Angel.
Angel featured keyboardist Greg Giuffria and lead guitarist Punky Meadows and, a la famous rocker David Bowie,  looked kind of  androgynous.
Twisted Sister, though, always looked pretty ugly in make-up and wanted it that way.
Lead singer Dee Dee Snider had  the inauspicious role as head clown of Twisted Sister.
Twisted Sister were around at the same time as all the bands that played a part in their overall approach, it should be noted; the twisted saga begins in 1972 and since New York is such an overpopulated, competitive place I guess this is why Twisted Sister didn't get around until 1982 to release their debut album, 'Under The Blade'.
Hard Rock glamstars Slade and the outrageous punkery of Johnny Rotten & The Sex Pistols would play a huge role in shaping the band's early direction. One might remember how New York City's Manhattan borough became a mecca for Punk Rock in the 1970's, producing an act such as Blondie as well as the outrageous Hardcore Punk antics of The Dead Boys and the inbetween Punk/Metal curios Cold Sweat, from the Bronx-  the same place incidentally where megathrashers Anthrax hail from. New York was the place that mixed Punk, Hardcore and Heavy Metal and, yes- Dance/Rap all into one big, mixed cocktail of heavy music.
This, the third placing in Death Scream's '21 Heavy Metal bands from New York that made it' belongs given wholeheartedly to Twisted Sister; so let me tell you more about 'em.
It should be noted that the band made some unstoppable albums from 1982-1987 before going on hiatus for seventeen long years when the band reunited once again in 2004 for the album 'Stay Hungry' and then again for 2006's 'A Twisted Christmas' LP. 1983's 'You Can't Stop Rock 'n' Roll LP, 1984's 'Stay Hungry' LP and 1985's 'Stay Hungry' LP,  most notably, comprise the best of Twisted Sister's studio-recorded material.
I really doubt anybody out there can resist humming along to Twisted Sister instant sing-along classics like: 'We're Not Gonna Take It', 'You Can't Stop Rock 'n' Roll', and 'The Price'. Tailor made for 'the twisted ones' was their 1985 cover of one of the world's most beloved biker anthems, 'Leader Of The Pack', a song which carries the same notoriety as Steppenwolf's ode to Heavy Metal thunder 'Born To Be Wild'. Twisted Sister's gawdiness and lewd stance is refreshing, sometimes, in the face of today's too often sensed deadly seriousness that seems to afflict the world at large.
– Rich Castle
Death Scream – Heavy Metal Reviews – Heavy Metal Interviews – Heavy Metal News