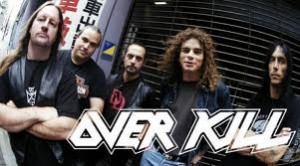 21. Overkill – New Jersey – New York, New Jersey and Connecticut comprise what is known as the Tri-State area surrounding New York City. Overkill are so well-known to the state of New York's Heavy Metal/Extreme Metal audience that this band, Overkill, have garnered themselves an entry into this Death Scream list at number 21.
Overkill are a hard living, hard playing band that can be likened to Anvil, Razor, Hades and Riot, to a certain extent. Power Metal meets Thrash Metal never sounded so good in the hands of the band Overkill who have made these must have albums: The debut LP, 1985's 'Feel The Fire', 1989's 'I Hear Black', and 2010's 'Ironbound'.
Fifteen albums, total, comprise this band;s discography and the music continues to deliver, year in and year out.
– Rich Castle
Death Scream – Heavy Metal Reviews – Heavy Metal Interviews – Heavy Metal News