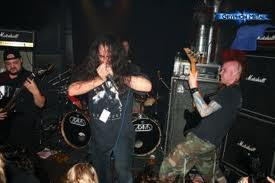 20. Mortician – Yonkers, New York just outside New York City limits upstate – this creepy lot are the real thing for Grind Death Metalheads into haunted cemetaries and all that goes bump in a noisy night of much paranormal poltergeist activity.
All of this band's albums are prettty even as far as which ones are best or worst. New York is not known at all for Black Metal entries that are easily recognized. So I guess I can say that Mortician are the closest thing that New York have given us for Black Metal since the band's style can be described also as Black Metal-infused Death Metal.
Having said what I did please don't confuse Mortician with 'the Gothenborg' sound that has come out of Sweden as it is not at all the same as what I am talking about here with Mortician.
Delightful Carcass-like entries in this band's catalog includes the cruelly titled 1999 'Chainsaw Dismemberment' LP and 2004's here-we-go-again-we-are-Metal-so-we-have-come-back-to-life-as-the-undead-always-do 'Re-Animated Dead Flesh' LP.
Mortician didn't break up or go anywhere however, like a lot of other New York bands that appear on this list; they've simply come back from the dead to haunt the living in  storybook-like manner.
– Rich Castle
Death Scream – Heavy Metal Reviews – Heavy Metal Interviews – Heavy Metal News