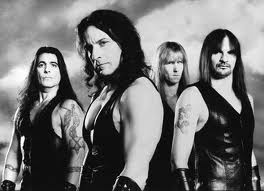 2. Manowar – Upstate, New York; Auburn to be exact – A more pleasing spotlight is cast here in this Death Scream exclusive list than what has made headlines most recently for New York's own 'Kings of Metal' in the form of the shocking death of the apparently quite fit and trim, Viking-esque drummer, Scott Colombus of Manowar who died suddenly at the age of 54. z
Formed in 1980 in their hometown of New York, Manowar have laid seige to the world's stages and deservedly should be referred to, as their 2002 ninth studio album opus lays claim to, as 'Warriors Of The World'.
Manowar, clad in black leather and spikes from head to toe are the consumate image of Heavy Metal cool.
I think I first heard the term 'Power Metal' in conjunction with Manowar at around the time of their second studio effort- the 'Into Glory Ride' LP from 1983.
Not since Judas Priest had the Heavy Metal realm produced an operatic singer so over the top and plain talented as all heck as Eric Adams, the lead throat of Manowar.
The first batch of Manowar albums also had the magical power of founding member, guitarist Ross 'The Boss' Friedman to boast of.
And last but not least to mention, there is the pounding heart of the Manowar beast in the brooding form of dark-haired bass player Joey DeMaio who admittedly lives for bikes, women and Heavy Metal as a way of life as does the rest of his band.
Manowar just recently released a mind-blowing total remake of their debut LP from 1982- 'Battle Hymns', called 'Battle Hymns MMXI', in 2010- following up on the band's recent excursion into Norse mythology that is the theme of  their 2009 tenth studio album 'Gods of War'.
Travelling all over the world in celebration of Heavy Metal, the loudest band on planet Earth, Manowar, continue to blow out speakers the world over to the approval of roaring, pumped up Metal hordes everywhere.
I would personally recommend all the albums by Manowar that I have mentioned so far, as well as the third and fourth Manowar albums: 1984's 'Hail To England' LP and 1984's also, 'Sign of the Hammer' LP.
– Rich Castle
Death Scream – Heavy Metal Reviews – Heavy Metal Interviews – Heavy Metal News