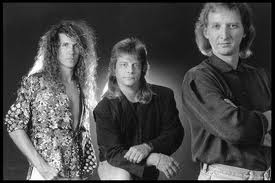 16. Zebra – Long Island, New York via New Orleans, Louisiana –  Zebra combined Hair Metal with a Led Zeppelinesque demeanor.
The band goes back as far as 1975.
Their major label debut LP from 1983 came out on Atlantic Records highlighted by the singles 'Tell Me What You Want' and 'Who's Behind The Door'.
Now a staple band on Classic Rock radio stations across the United States, at  least, this band goes a long way to prove that the term 'Classic Rock' is just plain non-descript and a bit ludicrous when considering the fact that they are playing these songs by Zebra which I believe sure the heck ain't Classic Rock as I know it.
– Rich Castle
Death Scream – Heavy Metal Reviews – Heavy Metal Interviews – Heavy Metal News